How Long Uncharted: The Lost Legacy Might Actually Be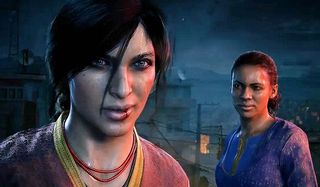 We've all heard the term "go big or go home," but it looks like those are words the folks at Naughty Dog live by. It turns out they're swinging for the fences with the story-driven DLC for Uncharted 4: A Thief's End, revealing that The Lost Legacy will actually take quite a while to run, jump and shoot through.
In speaking with the International Business Times, Naughty Dog Director of Communications Arne Meyer revealed that The Lost Legacy could take players a good 10 hours to complete. That's about as long as your average game these days, which should come as exciting news for any fan of the Uncharted series.
According to Meyer, the team got rolling with The Lost Legacy and realized the project was ballooning. Rather than throttle back, however, they decided to deliver the experience they originally set out to create.
It's that kind of dedication to a project that has garnered Naughty Dog so much attention and praise over the years, including the recent Game of the Year BAFTA for Uncharted 4. It's encouraging to know that the team decided to just put their heads down and keep working, rather than trim things up and offer a morsel when they originally had a steak on the plate.
The Lost Legacy was first revealed during E3 2016 and is set to star series vet Chloe Frazer and Uncharted 4 newcomer, Nadine Ross. The team at Naughty Dog has confirmed that Nathan Drake will not be a part of this tale, adding that you can imagine he's sitting on a couch somewhere, playing Crash Bandicoot while Frazer and Ross go on their own adventure.
We've known for a while that Uncharted 4 was getting DLC, though. It was originally planned as part of the Season Pass DLC bundle, and that's why it will still be available to those folks at no extra charge. For everyone else, though, it looks like we're going to have to fork over some extra funds in order to dive into this new adventure. If the game really does take upwards of 10 hours, though, we imagine it'll be worth the extra charge. Meyer probably described it best.
While not as lengthy as your traditional Uncharted romp, it at least sounds like The Lost Legacy will keep players busy for a long weekend. We're excited to see how it all turns out.
Your Daily Blend of Entertainment News
Staff Writer for CinemaBlend.
Your Daily Blend of Entertainment News
Thank you for signing up to CinemaBlend. You will receive a verification email shortly.
There was a problem. Please refresh the page and try again.