Why The Professor Layton Series Replaced Professor Layton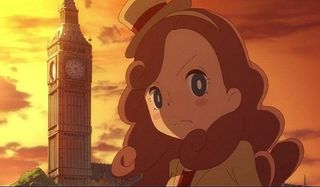 The latest game in the Professor Layton series doesn't actually star the titular detective with the distinctive top hat. Instead, his daughter will be taking center stage this time around and, according to members of the Level-5 abby team, the shift is for a very good reason. In short, they wanted to return the series to its roots.
During E3 2017, we had the opportunity to visit a Professor Layton-themed café set up at Tom's Urban just down the road from the Los Angeles Convention Center. On the menu was a chat with Level-5 abby COO Yukari Hayakawa and Games Marketing Director Lucy Pozniak to talk about the latest game in the Professor Layton series, Layton's Mystery Journey: Katrielle and the Millionaires' Conspiracy. Focusing on Layton's daughter at the start of her career, Yukari explained that this shift in protagonist gave the developers a chance to take the series back to its roots.
For longtime fans who might be feeling a bit nervous about a "smaller" scope and a new protagonist, Pozniak explained that there is no need for concern. She said Katrielle's adventure will represent the same kind of gameplay series vets have grown to know and love. But since Kat is just now starting out on her own, she won't be swept up in a big mystery quite yet.
But just because Kat won't be solving earth-saving mysteries doesn't mean her adventure is being slimmed down. Hayakawa and Pozniak both reiterated that, combining the story and a year's worth of puzzle-a-day offerings, it's actually the biggest game in the Layton series in one regard, with a puzzle roster measuring more than 500.
The big difference here is that this will be the first Layton game available on mobile. Millionaires' Conspiracy will actually launch first on Android and iOS on July 20, and then arrive on 3DS this fall. The duo explained that while some assets and inputs might differ, the game itself is the same across all platforms. They also made it clear that this is not a free-to-play title. When purchased on mobile, you'll have the full game. The only reason you'll even need to use wifi is if you want to take on the daily challenges.
So what do you think, readers? Are you ready to join Katrielle Layton on her first mystery-solving adventure. If so, do you plan on waiting for 3DS later this year or jumping on the mobile bandwagon? Let us know in the comments below.
Your Daily Blend of Entertainment News
Staff Writer for CinemaBlend.