PlayStation Exclusive Destiny Content Will Finally Be Available On Xbox After Destiny 2 Is Released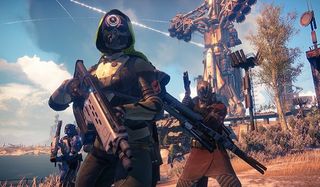 The final batch of timed exclusive content for Destiny will finally make the jump from PlayStation 4 to Xbox One, but it probably won't get much use from the community. According to a recent announcement, the exclusivity won't lift until after Destiny 2 hits store shelves.
According to a recent update on the Destiny blog, the team at Bungie won't be unlocking the final crop of PlayStation "exclusive" content on the Xbox One until their new game is up and running or, more specifically, sometime in October. That's not actually all that surprising, considering the fact that Destiny 2 arrives about a year after said content went live initially. Of course, considering that Destiny 2 will launch on September 6, that means that many will already be onto the sequel before this content is actually available. That timing matches up nicely with the previous iterations of PS-exclusive content, which probably has more to do with whatever contract Bungie signed with Sony than anything else.
In case all of that is a bit confusing, here's a brief breakdown. When Destiny launched nearly three years ago, it included a bunch of exclusive content for folks playing on the PlayStation 4. That practice isn't exactly uncommon, though it usually went the other direction during the previous console cycle. So players of the PS4 had access to a gun, some armor, a Shader, a couple of missions, a Strike and a multiplayer map that was not available on the Xbox One. About a year later, the Xbox One crowd finally got that content. The same thing happened another time or two throughout the history of the game, with the "exclusive" stuff arriving on Xbox One about a year after it was available on the PS4.
The last big update for Destiny arrived about a year ago, which got Xbox fans wondering when they'd finally have an opportunity to get in on the action. As noted above, Bungie has announced that the answer is sometime this October. The announcement states that a more specific date will be made available when the date gets closer. To be clear, exclusive content from The Taken King will be made available across all four Destiny platforms, while the Rise of Iron content will only be available on the current generation.
We realize that Bungie/Activision partnered with Sony for what they consider good business reasons and apparently those reasons were good enough to carry over into Destiny 2. But seriously, this is pretty weak sauce. These types of deals are aggressive toward consumers in the first place, but not making content for a game available until its sequel is released is extra rubbish. We have a hard time believing any fans of the series will want to return to Destiny on Xbox One a month after Destiny 2 launches just to grab some gear (that doesn't transfer into the new game) and tackle a few extra missions and whatnot.
Then again, we could be totally wrong. Feel free to leave your thoughts on the matter in the comments below.
Staff Writer for CinemaBlend.
Your Daily Blend of Entertainment News
Thank you for signing up to CinemaBlend. You will receive a verification email shortly.
There was a problem. Please refresh the page and try again.