Rick And Morty Are Coming To Rocket League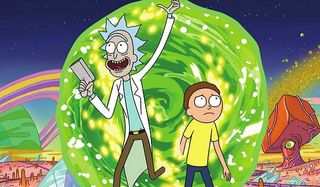 Apparently, starring in their very own virtual reality video game wasn't enough for Rick and Morty. Now the animated duo has started popping up in other games, starting with the wildly popular semi-sports game, Rocket League.
As the folks over at Polygon have pointed out, we're all expecting word on a third season of the Rick and Morty television show at some point in the next 24 hours. But while we wait, at least we can celebrate the dynamic duo in new and interesting ways; by which I of course mean enjoy free DLC in various video games.
Sadly, none of the Rick and Morty swag has launched just yet, but Rocket League players only have a few more days to wait before they can get in on the fun. The folks over at Psyonix have revealed that starting next Wednesday, July 5, players will be able to open loot boxes boasting free Rick and Morty goodies. Along with a pretty fantastic set of wheels meant to look like the intergalactic portal and a cartoonishly smoky speed trail.
Antenna balls and car-toppers are another way you'll be able to R&M your ride out, including items based on the titular duo, as well as characters like Mr. Meeseeks, Cromulon and (finally, a reason to type these words) Mr. Poopy Butthole.
Just like much of the in-game loot, all you need to do is play Rocket League, earn some chests and open them up to grab your Rick and Morty goods. There's no guarantee you'll get what you're hoping for, but the chase is half of the fun.
This comes hot on the heels of the launch of Rick and Morty Simulator: Virtual Rick-ality, the well-received VR title from the Job Simulator folks, Owlchemy Labs. The duo is also available in a set of skins for the multiplayer game, Move or Die, and will eventually pop up in Steam VR Home. Combine all of that with the impending arrival of the show's third season and, yep, Rick and Morty are having a pretty stellar year.
Things are still going rather well for Psyonix and Rocket League, too. The breakout hit is still going strong on all fronts, with this Rick and Morty deal being about the dozenth crossover promotion to pop up in the car-soccer arena. Also, Psyonix recently announced that Rocket League is coming to the Nintendo Switch, which we figure is only going to make its popularity soar even higher.
So what do you think, readers? Are you excited to pick up some Rick and Morty swag in Rocket League? What other property would you like to see invade the game in the future? Let us know in the comments below.
Staff Writer for CinemaBlend.