Nintendo Releases 2DS Bundles With New Super Mario Bros. 2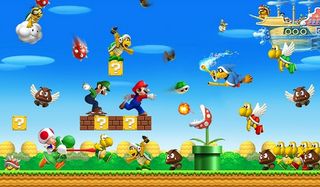 If you're still looking to pick up a Nintendo handheld console that isn't the Switch, and you're not exactly enamored with the New 2DS XL, then you might want to take a look at this latest bundle that's headed our way. It includes a standard 2DS, along with New Super Mario Bros. 2, all for a pretty fantastic price.
On Aug. 25, Nintendo will launch its latest console bundle, this time pairing the OG 2DS with a classic game. In case the ridiculous number of iterations on Nintendo consoles is confusing you at this point, just think of this particular piece of hardware as the "door wedge" model. It does everything a 3DS can do except display images in 3D, and it's built as a solid, non-folding body that's thicker at the top than the bottom. It could literally be used as a door wedge if you're some kind of monster who mistreats their game consoles. This particular 2DS comes with a white front and red trim.
On top of the console, you'll be getting a copy of New Super Mario Bros. 2. All told, the bundle will just set you back $79.99, which is a pretty phenomenal price if you've been waiting for that impulse moment to hit. The game alone sells for like 20 bucks, so that means you're basically getting the console for the price of a regular PlayStation 4 game.
There's also the added bonus if you're a parent who worries about such things, that the system doesn't display in 3D. So if you were convinced that newfangled Nintendo handheld was going to make your child go blind, you've got less to worry about with this model.
And if the 2DS isn't doing it for you, you've still got plenty of options in the Nintendo camp. There are multiple 3DS models to pick from these days, the New 2DS XL that launched just this past week, the Nintendo Switch, as well as the Super Nintendo Classic Edition if you're just looking to relive the glory days.
Nintendo was also quick to point out there are still a lot of games coming to their portable consoles, including the 2DS, such as Monster Hunter Stories, Metroid: Samus Returns, Yo-Kai Watch 2: Psychic Specters, all due out this fall.
Staff Writer for CinemaBlend.
Your Daily Blend of Entertainment News
Thank you for signing up to CinemaBlend. You will receive a verification email shortly.
There was a problem. Please refresh the page and try again.