Splatoon 2's First Official Splatfest Starts Tonight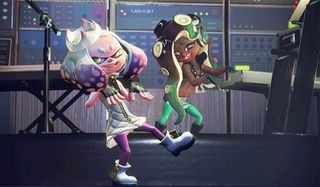 The first official Splatfest for Splatoon 2 launches this evening, pitting a pair of condiment juggernauts against one another in mortal combat. Who will come out on top: Ketchup or mayonnaise?
If you haven't been following Splatoon 2, everything above probably reads like a unique brand of insanity. For fans of the game, though, it reads more like a call to arms. And players can answer that call starting this evening, Aug. 4, at 9 p.m. PT. The event will only run for 24 hours, though, so you'll want to play as much as possible throughout the next day if you want to assist your team on the road to victory.
A carryover from the original Splatoon, Splatfests are special events that basically pit two groups of players against each other in order to answer age-old questions like, "Which is better, cats or dogs?" The final Splatoon 2 beta was actually a Splatfest event pitting cake versus ice cream. This time around, though, players have been asked to pick between ketchup and mayonnaise. To take part, all you have to do is visit the Splatfest kiosk at the heart of the game's hug and pick a side. From there, you'll be able to join Splatfest versions of Turf Wars, automatically being pitted with players on your same side.
What's cool about these events is that Nintendo really plays them up big. For the event, the teams will have ink themed after their chosen condiment, so it really looks like the arenas have been doused in ketchup and mayonnaise. Players can also wear special team-themed gear through the event and earn special awards only available during a Splatfest.
To make this first official Splatoon 2 Splatfest extra special, Nintendo previously announced that a special new stage will be added into the event rotation. It's called "Shifty Station," and it'll only be available throughout the event. It'll come back with each Splatfest, though, but with some unexpected changes each time.
Once the Splatfest has wrapped up, winners will be announced based on popularity and performance in the matches. Depending on your rank, Gamespot has confirmed that Super Sea Snails will be awarded to players, which can be used to add an extra ability slot to your favorite gear.
Finally, in honor of the first official Splatfest, a new weapon will also be added to Splatoon 2 as free DLC. It's called the Sploosh-O-Matic, and it was actually first available in the original game. This time around the Sploosh-O-Matic boasts a short range and a beefed up attack power, making it good for crowd control in close quarters or inking a lot of turf directly in front of you. Think of it as a shotgun.
This new weapon will be paired with the Curling Bomb, which slides out in front of the player and creates a narrow track of ink before exploding. Finally, the special attack is the Splashdown, which is typically best at creaming enemies who have strayed too close to you. All told, this seems like something of a tank build. The Curling Bombs can help you move around more quickly, with the weapon and super designed to crush close opponents and ink a lot of nearby turf.
Staff Writer for CinemaBlend.