Cult Classic Okami May Be Getting An HD Remake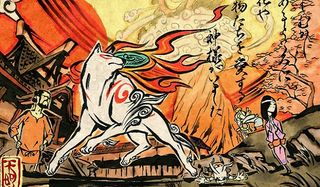 Something of a hidden gem from the PlayStation 2, Okami might be getting another chance to shine as rumors are starting to circulate that an HD remaster of the game could be heading to the PlayStation 4 and Xbox One this holiday season.
While Capcom has not confirmed a potential Okami remake themselves, Kotaku UK is reporting that two separate retail chains have provided evidence that a Christmas release is in the cards. Both retailers have included Okami HD in their upcoming physical release calendar, which makes for a pretty safe bet that something is indeed in the works. The rumor is strengthened by the fact that both retailers, located in different parts of Europe, have a launch date of Dec. 12 listed.
This is pretty fantastic news, as Okami is one of those games that deserves as much attention as it can get. If you missed out on the PS2 original, the game puts players in the role of Amaterasu, a wolf goddess with divine powers. The art style resembles classic Japanese paintings and, with a little time and effort, should translate super well to modern consoles.
In terms of gameplay, Okami has a lot in common with the Zelda series. You explore a semi-open world broken into zones and, as you progress, you battle enemies that offer new mechanics for the player to unleash on their own. One of the coolest mechanics of the game was the ability to "paint" things into existence. Once you gained certain abilities, you could paint bridges, plants, fire, wind and more into existence, helping you solve puzzles and progress further into the game. Amaterasu also gained a bunch of cool sub-weapons, like a massive sword, a mystical shield and prayer beads you could fire at enemies.
The original game gained a modest but extremely loyal following, with an HD remake released for the next generation of consoles. Unfortunately, it only saw a digital release here in the States so, again, not too many people were willing to give it a chance. In other words, this will be Okami's third chance to win over an audience, and the game absolutely deserves that attention.
Still, we're trying not to get our hopes too far up, as nothing has been confirmed by Capcom at this time. But an Okami remake certainly would make sense given their current strategy of both revitalizing classics and bringing additional HD ports to the newest family of consoles.
The only thing that has us worried is that, right now, only PS4 and Xbox One versions of the game have been mentioned. For our money, Okami would be a perfect fit for the Switch, so hopefully there's a chance that, like with the Resident Evil Revelations remakes, it is still a possibility.
Staff Writer for CinemaBlend.