Life Is Strange: Before The Storm Launch Trailer Is Dramatic And Emotional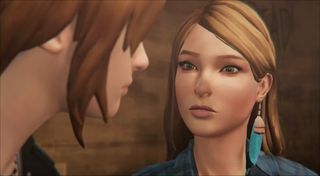 Square Enix and Deck Nine Games released the official launch trailer for Life is Strange: Before The Storm, which is due for release next week on August 31st. The trailer arrives during this year's GamesCom 2017 convention taking place in Cologne, Germany.
The two minute trailer features music from the indie band Daughter, and there's a bit of spotlight on how Daughter created the OST for the game over on the Life is Strange Tumblr page. Nevertheless, the trailer features Chloe, who provides an explanation of her situation via voice-over, where she deals with the death of her father who died during a car accident, and trying to cope with her mother's new boyfriend.
Chloe explains how she's terribly angry at the world, and we see how she constantly lashes out over the rotten deal she was dealt in life. The trailer takes on a more upbeat tone instead of focusing solely on the perils of Chloe's teenage drama. They introduce Rachel into the picture, who quickly gels with the rebel outcast.
Much like in the original Life In Strange outing, we see how Rachel and Chloe bond much in the same way that Chloe and Max bonded.
Halfway through the trailer we see how Rachel and Chloe begin their adventurous carnage throughout the fictional coastal town of Arcadia Bay. Rachel does leave Chloe with a foreboding bit of a forethought in the form of one day leaving and just disappearing for good. For those of you who played the original Life is Strange, you discover that this did indeed happen to Rachel, but certainly not in the way that she thought. I imagine even thinking about that might well up some serious emotions from the more dedicated players.
The trailer ends on a somewhat sour note, but still gives gamers hope for what's to come when Life is Strange: Before the Storm launches next week for home consoles and PC.
The thing is, as a prequel, there's just going to be a lot of telegraphing of what happens in Dontnod's original first season of Life is Strange. For gamers already familiar with the outcomes, this probably will be somewhat of a letdown, sort of like how everyone already knew what was going to become of Anakin Skywalker in the Star Wars prequel trilogy.
However, for gamers who have not played the original game and want to go in blind, this is probably a good place to start. If you play through the prequel and then play through the first season, a lot of questions will be answered beforehand and you may even gain a bit more insight and understanding into the characters.
Of course, Life is Strange is not a series for everyone. It definitely caters more toward the young adult crowd much like young adult novels. Teenagers have definitely taken a liking to the series, and a lot of them are looking forward to Before the Storm's release next week, especially now that the launch trailer has managed to get them all pumped up for the game.
Staff Writer at CinemaBlend.