Menat Is Street Fighter 5's Newest Character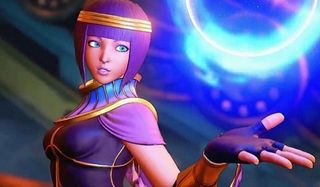 The Street Fighter V roster is ready to expand once again, with the newest pugilist getting thrown into the mix on Aug. 29. Menat the fortune teller is ready to tussle, and we predict she's going to feel right at home in Capcom's competitive brawler.
Menat was introduced to the world over the weekend, appropriately during the E-Sports Festival Hong Kong 2017. If you follow SFV news pretty closely, though, her reveal probably didn't come as much of a surprise. Sharp-eyed fans happened to note that the silhouette for the next DLC fighter looked a heck of a lot like a character, Menat, in Ed's campaign scenes. On top of that, some files leaked around the same time that referred to the character specifically, boosting the confidence of anyone who already thought Menat's appearance in the game was likely.
As Capcom pointed out in the announcement, Menat will hit Street Fighter V with a trio of outfits including her standard competitive look, her campaign outfit, and a battle costume. They also announced that some 30th-anniversary costumes will be made available for various characters at the same time as Menat's launch.
One thing we can say for certain is that Capcom has stood by their promise to keep building on Street Fighter V post-launch. Menat is the eighth DLC character, joining the likes of Akuma, Alex, Balrog, Guile, and Kolin to bring the roster up to a full 27.
As noted above, Menat is a fortuneteller and her moves are focused on her crystal ball, which is featured in many of her individual moves and combos. She can also use it to keep her opponents under her control, juggling them in the air to keep a heavy combo rolling.
On top of her mastery of the mystical arts, Menat seems as solid a butt-kicker as any other member of the SFV roster. She's got a powerful diving kick, a slide and even a reflect move to help her get a handle on projectiles. It looks like her V-Trigger is pretty flashy, calling in a collection of orbs that can be used to attack an opponent or triggered for other effects using that handy crystal ball.
In short, Menat seems to be a fast and furious addition to the Street Fighter roster and that crystal ball is a pretty cool gimmick that opens up a lot of combo potential. She looks like the kind of character that newcomers will love due to all of the flashy moves, but vets will adore because of the depth her versatility offers. Of course, we won't know for sure until she arrives later this week. If you get the chance to take her for a spin, be sure to drop back by the comments and let us know what you think.
Staff Writer for CinemaBlend.
Your Daily Blend of Entertainment News
Thank you for signing up to CinemaBlend. You will receive a verification email shortly.
There was a problem. Please refresh the page and try again.