What's Going On With Telltale's Game Of Thrones Series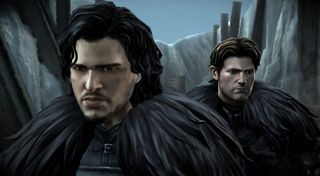 (Image credit: Telltale Games)
After Telltale Games produced a season of Game of Thrones: The Telltale Series the whole thing went dark. Well, fans have been really getting engaged with the brand once more now that the seventh season has wrapped up and some fans are desperate for more Game of Thrones. Well, Telltale finally explained what's going on with its series.
In a lengthy interview with Eurogamer, Telltale's head of creative communications, Job Stauffer, talked about the state of the company and where it stands on a number of upcoming projects and recently released projects. The conversation eventually shifted over to the state of Game of Thrones: The Telltale Series, where Stauffer was drilled about the long-promised second season that still hasn't come. Eurogamer pressed on if it was in the pipeline alongside the series finale of The Walking Dead: The Telltale Series, The Wolf Among Us: Season 2 and some of Telltale's other projects, but Stauffer didn't have good news to share about the state of the second season, saying...
This is actually a really good explanation.
I know a lot of fans of Telltale's take on the HBO series will be disappointed that the studio is holding off on completing the second season, especially when last year the studio definitely said that it was going to do a second season.
However, thinking about how there's no clear direction on how the HBO show will end, it's actually very wise that Telltale wait to see how things play out before jumping to conclusions or rewriting things in the way that the writers at the game studio see fit.
In this case, Stauffer is basically saying that with Telltale's full slate of games on the horizon -- including needing to finish Minecraft: Story Mode Season 2 and Batman: The Enemy Within -- it gives the studio plenty of time to iron out an appropriate story that respects what HBO is currently doing with the show at the moment.
I can only imagine how angry fans would be if Telltale had taken liberties with the second season that ended up developing character relationships or plot directions that would contradict with both the books and the television show.
That's not to mention that seeing how the show plays out will also give Telltale some room to experiment with the different choices for the second season, whatever those choices may be or whenever the second season actually launches.
At least we do know that Telltale will wait until the series finale of Game of Thrones before committing fully to the second season, so that means another year of waiting for those of you who want more from Telltale's take on the story.
Staff Writer at CinemaBlend.
Your Daily Blend of Entertainment News
Thank you for signing up to CinemaBlend. You will receive a verification email shortly.
There was a problem. Please refresh the page and try again.