Telltale Is Already Making Game Of Thrones Season 2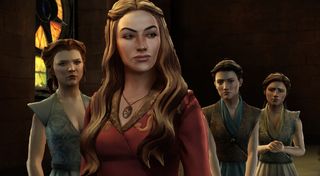 The Game of Thrones, the point-and-click adventure series based around the HBO show of the same name, will be getting a second season. Telltale has confirmed that they're already working on it, too.
Eurogamer picked up the quote from Telltale CEO Kevin Bruner, who also works as an executive producer on the game, where he rolled out a lot of information in an exclusive interview with The Hollywood Reporter. In the interview Bruner confirms that The Game of Thrones will get a full second season, stating...
The interview covers a lot of the details and story choices leading up to the season finale of Telltale's The Game of Thrones.
The follow-up question to Bruner revealing that a second season was on the way was the one question most people would have asked: how far along is Telltale into the second season?
Bruner dodges the question by stating that they can't divulge certain details about the production heading into the second season of the game series. However, he does bring up an interesting bit of details about the design philosophy that Telltale Games employs for their titles, mentioning that the production cycle for their projects are a lot closer to the likes of television shows than traditional games.
According to Bruner, they spend a lot of time actually working behind the scenes with the writers and storyboard designers as they flesh out what happens in the story arc and how characters are going to be fleshed out over the course of the season and what sort of choices players will have at their disposal that will change and alter various decisions and events carried out over the course of the game's entire season.
I can only imagine how difficult it is not only coming up with compelling stories but also attempting not to disrupt what George R.R. Martin and the rest of the showrunners at HBO have put together with the television series. Even still, Telltale has managed to carve out their own success with the Game of Thrones to separate itself from both the book series and the television series. While the games haven't really reached the level of storytelling and prestige that they did with the first season of Telltale's The Walking Dead, they've still managed to stay in the spotlight with their various series of titles that a lot of people have fallen in love with, including Tales from the Borderlands and their most recent and somewhat controversial Minecraft Story.
Nevertheless, fans of the first season of Game of Thrones will likely wait with bated breath for the second season to find out what happens to some of their beloved characters, and how some storylines will resolve after various other characters have bitten the dust. The entire first season for the game is available right now for home consoles and PC.
Staff Writer at CinemaBlend.