Nioh's Last DLC Has Finally Revealed New Details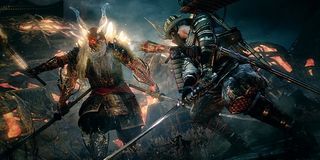 The journey through Nioh is about to come to an end, and the folks at Team Ninja have finally revealed some information about the game's next and final DLC, Bloodshed's End.
Over on the PlayStation Blog, Creative Director Tom Lee has revealed that the final story content for Nioh, the popular hack-and-slash game with Dark Souls DNA pumping through its veins, will arrive on Sept. 26. There's also a picture of a terrifying, semi-skeletal bird on the prowl, if you're into that kind of thing.
In this DLC, players will take on one last set of missions through the Sengoku period, battling Yokai, and all sorts of other monstrosities, along the way. Lee goes out of his way to refer to this as a way to "conclude the final chapter of the bloody Sengoku period," which has us wondering if that is itself a hint at a sequel set in another period. That's all speculation, of course, and we're probably just reading too far between the lines.
For those of you who have been following the game's lore, the last DLC chapter, Defiant Honor, saw conflict resolved as peace was established between the game's two warring factions. Trouble is brewing once again, though, so players will need to take William on one final journey to snuff out evil once and for all. You will do that, of course, by plowing through one tough-as-nails fight after the next.
On top of new main missions, sub missions, and Twilight missions, the developer has revealed that Bloodshed's End will also introduce players to a whole new game mode called The Abyss. Billed as a "perpetual battleground," it sounds like players will have to fight their way through one deadly challenge after the next until they've been defeated on their quest for a new high score. More info about this mode will be provided before the DLC launches, but it sounds like a nice way to keep players coming back to Nioh even after they've wrapped up the final campaign missions.
Lee also goes on to promise brand new Yokai enemies in this latest DLC, as well as new characters to meet, new Guardian Spirits to befriend and even a new difficulty level for you masochists in the audience.
As noted above, Bloodshed's End will be available in just a few weeks, launching on all platforms Sept. 26. If you don't have the Nioh season pass, it'll set you back $9.99.
So what do you think, readers? Are you eager to dive back into one of the hardest games of the year for one final series of battles? How have you been enjoying the DLC so far? Let us know in the comments below.
Staff Writer for CinemaBlend.
Your Daily Blend of Entertainment News
Thank you for signing up to CinemaBlend. You will receive a verification email shortly.
There was a problem. Please refresh the page and try again.