Classic Star Wars Game X-Wing Could Have Had A Spiritual Successor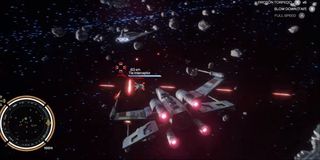 (Image credit: Double Damage Games)
One of the most popular Star Wars games of all time is Star Wars: X-Wing. It was a space sim centered around flying some of the Rebel starfighters against the Imperial space fleets. It turns out that once upon a time Double Damage Games had dreams to make a spiritual successor to X-Wing, but it didn't quite pan out.
Double Damage studio head, Travis Baldree, explained to Kotaku that the team had put together a demo to pitch it to Electronic Arts back in 2016 as a way of reviving the space sim genre, but things kind of fell flat after EA heard and saw the pitch...
EA declined to take Double Damage up on the offer, and instead used one of its own internal studios -- Criterion Games, to be exact -- to have it work on a space module for DICE's Star Wars: Battlefront II, which came out back in November of 2017 for PC, PS4 and Xbox One.
Criterion's take on the space flight was very similar to what Double Damage had put together in its own pitch, which consisted of cobbled-together assets and a few design systems from the indie project Rebel Galaxy, which ended up becoming a sleeper hit when it launched on PC back in 2015.
In the pitch video, we get to see what the ship physics, flight mechanics, cockpits and some of the gameplay features were like. There were obviously X-Wings available to fly, but also specialty ships like the Millennium Falcon. Gamers could also hop between different spacecraft mid-flight, not unlike Driver: San Francisco.
The sound is absolutely spot on, and very dynamic. There's a lot of classic elements to the design, such as the HUD, firing systems, and targeting. But there's also a lot of new features as well, such as advanced graphics (obviously), and lots of really cool lighting effects, voiceovers that play during the missions, and a vehicle selection wheel that allows you seamlessly hop between different craft.
We get to see about five minutes worth of gameplay footage from the vertical slice that Double Damage Games put together, which you can check out below.
It's a slick piece of design work that doesn't look far off from what was featured in Star Wars: Battlefront II, save with more chatter popping up frequently between the Rebels and the Imperial forces.
I can definitely see the potential in a brand new X-Wing, but I'm pretty sure EA was thinking that there's too much overlap between a new Star Wars space sim and what was already being implemented into Star Wars: Battlefront II. But maybe we'll get to see a new successor to the old-school 1990s space sim at some point in the near future? Hopefully? ...Maybe?
Staff Writer at CinemaBlend.
Your Daily Blend of Entertainment News
Thank you for signing up to CinemaBlend. You will receive a verification email shortly.
There was a problem. Please refresh the page and try again.