New Injustice 2 Video Shows Off Enchantress' Powers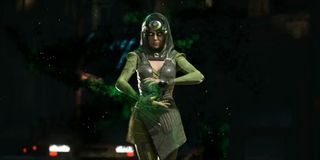 NetherRealm Studios detailed another of the three new characters arriving as part of the next seasonal update for Injustice 2. Enchantress gets the spotlight this time around as NetherRealm continues to roll out characters as part of Fighter Pack 3 for the superhero fighting game.
The trailer was uploaded to the Injustice YouTube channel, featuring just under two minutes worth of gameplay for the Enchantress. The character will be available as an early access DLC item starting January 9th for those of you who purchased the Injustice 2: Ultimate Edition, otherwise everyone else will have to wait to purchase her piecemeal.
A brief description outlines a little bit about the character and her abilities, which is not too dissimilar from her depiction in David Ayer's Suicide Squad, which came out back in 2016. Enchantress is the alter witch ego of June Moone. Moone was possessed by the demonic sorceress who is bent on taking over the world, enabling her to make use of powerful magical spells and abilities to subdue opponents, and even mind control them.
The lore of Enchantress plays a huge role in how you actually control her in the game. We can see right off the bat that she can manipulate counters rather effortlessly by teleporting out of the way of Deadshot's axe kick. She manages to get in a quick sword swipe by falling out of the air, catching Deadshot off guard.
Enchantress also has the ability to quickly follow-up her attacks in a number of ways, such as using a low pop-up and push-back attack to create separation, assuming you want to do so in order to zone. However, it should be noted that Enchantress can't really zone like other Injustice 2 characters such as Supergirl or Superman. Her projectiles are more mid-ranged than long-ranged, as demonstrated in the video where she relies on telekinetic abilities to take control of her foes, not unlike Kenshi or Quan Chi from Mortal Kombat X.
Enchantress, while lacking some long ranged abilities, does have anti-zoning specials, such as being able to create a green magic barrier that reflects enemy projectiles back at them.
She can also quickly close distances using a short-range lateral teleportation ability, which is great if you need to whittle down space between you and a foe who may like to keep their distance and fire off their weapons, such as Red Hood or Deadshot.
We also get to see how Enchantress can utilize minions to do her bidding as well as crowd-control spells to relinquish mobility from her foes.
Many gamers and fighting fans see her as the Injustice 2 version of Quan Chi and Kenshi fused together. It's not a bad combination if you're into technical magic users with a high skill ceiling. As mentioned, you can look for Enchantress to make her early access debut on January 9th.
Staff Writer at CinemaBlend.
Your Daily Blend of Entertainment News
Thank you for signing up to CinemaBlend. You will receive a verification email shortly.
There was a problem. Please refresh the page and try again.