5 Reasons Deadshot Deserves His Own Franchise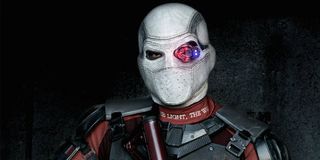 Now that David Ayer's Suicide Squad has hit theaters, it's plain to see what works in the film and what doesn't. For all of the movie's lukewarm reviews, even the harshest of critics have voiced praise for a few of Suicide Squad's key elements. Perhaps no specific facet of the recent super villain team-up has received more individual praise than Will Smith and his undeniably badass portrayal of Floyd Lawton, a.k.a Deadshot.
With that in mind, we think Suicide Squad only represents the tip of the iceberg for Mr. Lawton. Deadshot's a phenomenal character, and the folks at DC should seriously consider branching the deadly marksman out into a franchise of his very own. We've compiled a list of reasons why Deadshot deserves to break away from Task Force X and enjoy a solo adventure away from Rick Flag (Joel Kinnaman), Harley (Margot Robbie), and all the rest. Take a look at our reasons, and let us know what you think in the comments section below. Now let's get the ball rolling with No. 1.
He Keeps The DCEU Morally Grey
First we got Superman (Henry Cavill), an alien from another world who desperately wanted to represent a shining symbol of hope. Then we got Batman (Ben Affleck), a brutal vigilante who lost his way but tried every day to do the right thing. Now we have Deadshot, a stone cold killer who doesn't seem to have any regrets about his particular line of work. Comic book movies often maintain pretty stark contrasts between ideas of right and wrong, but a Deadshot franchise could allow the DCEU to explore the grey areas of morality with a much stronger degree of nuance. If we can root for a guy who will kill anyone for the right price, it fundamentally alters what we view as right and wrong in this superhero universe. After all, simple notions of good and evil can get boring after a while.
He Still Has Room To Grow
One of the smartest moves made by Suicide Squad came with the decision to advance Deadshot's character arc without completely wrapping it up. We clearly saw that he has a capacity for good, but that doesn't make him a fundamentally changed man. He saved the world, but that doesn't exactly qualify him for Justice League membership. Although we probably never want to see him head into all-out hero territory, Deadshot has more or less found himself placed on a somewhat redemptive path, and a series of solo adventures could go a long way towards fleshing out that journey even more.
He Has A Sense Of Humor
Floyd Lawton is a funny bastard, and that's exactly what the DCEU needs right now. After two undeniably grim and somber superhero outings, Suicide Squad gave us an adventure that seemed unafraid to let the lead characters crack some jokes throughout the course of their mission. This is an area where DC could learn a thing or two from Marvel; if you've got a lead actor who has a knack for comedic timing, then it's in your best interest to let him flex those muscles. He doesn't have to go full Tony Stark or Wade Wilson, but Deadshot's sense of gallows humor could help further establish the overall tone and style of the DCEU.
He Keeps The DCEU Gritty And Grounded
With Man of Steel, we got to see apocalyptic battle sequences. With Batman V Superman, we saw Batman's more technical and gadget-centric style of combat. But a Deadshot franchise could give us a more grounded and violent DCEU movie than we've seen before. The use of firearms is just as polarizing in the DC universe as it is in real life, and as such, a Deadshot movie could explore the life of a man who lives and dies by guns and bullets. Unlike many other comic book movies, Deadshot's solo adventure could feature intense, gritty action sequences that feel more akin to a Michael Mann crime drama than a Zack Snyder epic.
It's Will Smith's Best Role In Years
Despite the fact that he's one of the most bankable stars in the history of Hollywood, Will Smith doesn't have too many major franchises under his belt. Floyd Lawton arguably represents his best performance in a long time, and a series of Deadshot movies could revitalize the actor's resume in a big way. Smith has definitely hit a slump in recent years, and continuing his work as the DCEU's greatest marksman could invigorate his career in the same way that Tony Stark and Iron Man rejuvenated Robert Downey Jr.'s. We love Deadshot, and we love Will Smith as Deadshot; it only makes sense to give audiences more of a good thing.
Your Daily Blend of Entertainment News
Originally from Connecticut, Conner grew up in San Diego and graduated from Chapman University in 2014. He now lives in Los Angeles working in and around the entertainment industry and can mostly be found binging horror movies and chugging coffee.