The Newest Character Confirmed For Injustice 2 Is A Real Scream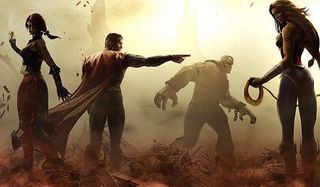 Leading up to the launch of Injustice 2, the team at NetherRealm Studios is going to be drip-feeding us looks at the latest characters to be added to the DC fighting game's roster. This week's reveal is a fan favorite who pulverizes her enemies with the power of her voice.
Black Canary certainly has a set of pipes, and she's not afraid to use them to great effect in this character reveal trailer that debuted on IGN recently. Injustice 2 isn't due out until May 16, though, so expect to see a lot more characters strut onto the scene in this fashion. Honestly, we think it's a pretty great way to build hype for the game, giving folks just a little taste at a time of the heroes and villains they'll be able to take control of this time around in Injustice 2.
In the trailer, Black Canary begins the scene propped against her trusty bike. Blue Beetle runs up and makes it sound like he's trying out to be a part of Batman's new band of heroes, so we're thinking this might be a brief scene from the new Injustice campaign rather than just your typical pre-fight banter.
As we reported earlier, Injustice 2 is a direct sequel to the original game, beginning with Superman in chains and Bats trying to make sense of a world gone mad. To top it all off, Brainiac is in the mix and looks to be serving as I2's big bad.
Black Canary opens with a flurry of blows that makes it look like she'll be relying on kicks and elbows, which is a pretty rad fighting style. We soon leave the Blue Beetle fight and get treated to scenes of the hero going toe-to-toe with several previously revealed characters across a variety of maps.
As promised, she uses a scream to blast her enemies back and that added super strength allows her to pick up and chuck a car. She also whips out a stun bomb before going total badass. Her big finisher sees her screaming her opponent into the ground before finishing off with a massive punch and, just for good measure, a cartwheel kick.
From the trailer, Black Canary seems to be a more tactical character with fewer super-charged attacks and special effects than some of the other roster members. That role suits the character well, and we think she's going to please players who like to pick their opponents apart rather than try to go all "superhero" on everyone.
The trailer ends with the game's tagline, "Every battle defines you," but, unless we just totally missed it, we didn't see those customization options on display in this latest trailer. In the game, you'll constantly be unlocking gear that lets you tweak the way your favorite characters look and behave. Here's hoping we get to see more from the various forms of Black Canary before Injustice 2 finally drops.
Your Daily Blend of Entertainment News
Staff Writer for CinemaBlend.