50 Cent Wants To Make Another Video Game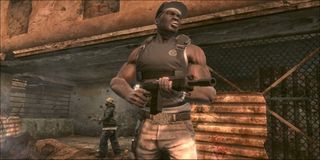 (Image credit: THQ)
If 50 Cent: Blood On The Sand wasn't enough to quench your thirst of rapper-themed action games from nearly a decade ago, well you're not alone, because rapper 50 Cent seems to feel the same way. In fact, he's not against having a third game based around his persona in order to complete the trilogy.
In an interview with Gamespot, Curtis "50 Cent" Jackson told the gaming outlet...
According to the article, Tomorrow, Today is an upcoming show for the premium cable network, Starz. It's about a war veteran who ends up as a prisoner that gets experimented on by a mad doctor and gains super human abilities. It almost sounds a lot like Deadpool.
However, in the interview, 50 Cent explained to Gamespot that it wasn't about retreading old ground but creating something "unique" and "special." He told the outlet that he wants everything he touches to be special, and that if he came up with a new game for today's generation of gaming it has to be "extreme" so that everyone will remember and enjoy it for a long time to come.
I don't know if the original two 50 Cent video games are really considered as timeless classics among the gaming community. Both games came out during a time when hip-hop themed video games were all the rage, with titles like Def Jam: Fight For New York, Def Jam: Icon, True Crime: Streets of LA, and NBA Ballers making impressions on the charts. However, the rap-bubble burst in the video game arena, and studios moved on to the next big fad.
50 Cent is definitely right that whatever the new game is it would have to be big and extreme, because otherwise it's easy for the games to get drowned out and forgotten in the massive amount of titles released these days across home consoles and PC. There's definitely a saturation issue to take into consideration.
The very first 50 Cent: Bulletproof came out back when the gangster fad was in, and Grand Theft Auto: San Andreas was a massive seller. The first game was released on the PS2, and OG Xbox, and managed to sell well enough on the home consoles to eventually earn itself a sequel some four years later when THQ picked up the publishing rights and released 50 Cent: Blood On the Sand for the Xbox 360 and PS3.
The sequel did mix things up from the first game, having the rapper travel to the Middle East to take on terrorists instead of fighting against other gang members in the urban streets of America.
I'm not entirely sure what a third game could entail, especially given that the first game came out when the gang theme was a bit more mainstream within video games, and the sequel came out when a lot of other games were getting in on the Middle East conflict and the popularity of the Call of Duty games. Maybe, like 50 Cent mentioned, the third game could focus more on the super hero genre since it's all the rage right now?
Staff Writer at CinemaBlend.
Your Daily Blend of Entertainment News
Thank you for signing up to CinemaBlend. You will receive a verification email shortly.
There was a problem. Please refresh the page and try again.