How To Get Into Overwatch's Lunar New Year Event For Free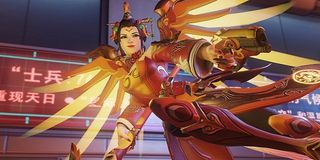 One of the many factors that keeps Overwatch players coming back for more are the regularly occurring in-game events. Players are actually celebrating the Lunar New Year within Overwatch right now, so it seems like as good a time as any to remind folks who haven't jumped on the bandwagon quite yet how they can get in on the action free of charge.
As we reported earlier this week, Overwatch is hosting a free weekend for all platforms. And thanks to the inclusion of President's Day on Monday, that means the festivities are only halfway over on the PlayStation 4, Xbox One and PC. And as Gamespot has reminded us, this particular free weekend coincides with the ongoing Lunar New Year event. So if you haven't played Overwatch and you want to see how the Year of the Dog has been plugged into the game, now might be a good time to do exactly that.
As a reminder, the Overwatch free trial means you'll be downloading the entire game. Rather than give players a small slice of the action with a standard demo, developers have learned it's much easier to simply let players grab a full title with a timer tacked on. That means that, if you pop onto your platform of choice and get to downloading, you'll soon be able to experience every character, map and mode Overwatch has to offer at no charge. Even better, that includes everything under the Lunar New Year umbrella.
As for what's going on in the YotD event, players can expect a whole bunch of themed skins, including some new additions for this year and a return of last year's skins. Also included in the event is a new version of Capture the Flag. Rather than let those events end in a tie, the revamped version simply moves the flags closer together when the timer runs out. That should make grabbing the final capture a bit easier. Also, players now pick up the flag instantly, but they'll drop it if they activate a move that makes them invincible or adds extra mobility.
As typically happens with these types of events, the folks at Blizzard have decided to sweeten the pot by discounting Overwatch through the weekend. Whether you're buying physical or digital, both the base and GOTY versions of Overwatch have been marked down by 50 percent.
Even better, any progress you make during the free weekend will carry over seamlessly if you decide to make the full purchase. So any leveling up you've done or skins you've unlocked this weekend will be waiting for you in the full game, even if you decide to wait a while longer to make the purchase.
As for the Year of the Dog event, that'll keep on rolling until March 5, so get in there and enjoy it before it's gone.
Staff Writer for CinemaBlend.
Your Daily Blend of Entertainment News
Thank you for signing up to CinemaBlend. You will receive a verification email shortly.
There was a problem. Please refresh the page and try again.