Super Seducer Game Won't Be Sold On PlayStation 4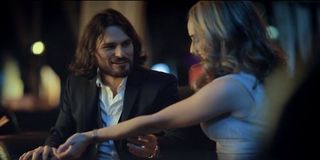 Anyone looking forward to picking up Super Seducer on the PlayStation 4 is in for disappointment, much like anyone looking to strengthen their "pick-up skills" by actually playing the game. Sony has decided to keep the game off of PlayStation Network, though Valve seems okay with putting it on Steam.
Super Seducer is a lot like those horrendous television shows about a "legendary pick-up artist" who teaches dudes how to pick up women. Yes, there are about a million things wrong with that sentence, which is why some folks were more than a little upset that Sony and Valve planned to publish the game on their respective storefronts.
While not providing a reason, though we can certainly guess at it, Sony has decided to keep Super Seducer off of the PlayStation Network. The folks over at Motherboard reached out to the game's creator, Richard La Ruina, for a comment, to which he said that his comment is that he has no comment. A comment in which you claim you don't have a comment...Is this one of his seduction tricks? If so, we're only left confused by it.
The problem most folks seem to have with the game is that it reportedly promotes sexist behavior, treating women as conquests rather than people. We doubt anyone would argue against lessons in how to become more self-confident, but the problem with a game like Super Seducer is that it has little to do with empowering one's self and more to do with making others feel inferior, or just flat-out tricking them. There's also the fact that the desired result is only to get that other person into bed because you are just soooo slick.
Obviously, there's a lot to unpack here and I'm nowhere near qualified to talk about the possible ramifications of the game in any detail, but it's clear that a lot of people felt it would be in Sony's best interest to refuse having any part of it.
The same cannot be said, however, for Steam. Valve has decided to go ahead and publish the game, which you can pick up for about 10 bucks, discounted from $13 as a launch special. There's already a petition circulating to get the game removed, though we don't know how successful something like that will be. The comments are also pretty rough, with folks for and against the game going back and forth in ways that are, quite frankly, disheartening.
Reviews seem to be more in the negative column, but quite a few folks are defending the game. If you had any question about this choose-your-own-adventure game's content, though, we'd point you to this glowing review from user Lord Hodor, which states "He will say everything and anything to advance his chances to get laid." So maybe the naysayers aren't overreacting, yeah?
Your Daily Blend of Entertainment News
Staff Writer for CinemaBlend.