Shadow Of The Tomb Raider Reveal Trailer Sends Lara To South America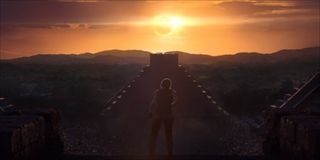 Crystal Dynamics and Square Enix are finishing off the origin story for Lara Croft later this year with the long-rumored release of Shadow of the Tomb Raider. After months and months and months of teases and speculation, the publisher finally revealed the game with a short teaser trailer.
The video was posted on the official Xbox YouTube channel, but the game itself will be released on PC, PS4 and Xbox One starting September 14th, 2018.
The 24 second teaser is actually an announcement for another announcement that details Shadow of the Tomb Raider. The full announcement for the game is set to go live on April 27th.
The teaser trailer isn't completely devoid of content, though. We do get to see Lara Croft making her way through a jungle area, supposedly set in South America. She's still equipped with her pick-axes and her bow and arrow. The cinematic also gives a glimpse of a man in netted mercenary gear with an M4 assault rifle. You can't make out his face due to the net and an armored mask, but you can see that he has camouflage on his arms, a tactical vest and cut-off tactical gloves.
We also get a brief glimpse of Lara scaling the side of a cliff, and get to see what looks like some ancient pyramid ruins located deep beneath a cave site. Light from the outside shines through to illuminate the area. Lara stands at an entryway while wielding a bow with a flaming arrow.
Another clip shows Lara taking a rather rough and tumble fall down the side of a hill. The clip rounds out with what looks like an impending eclipse over four ancient pyramid structures while Lara stands atop one of them. She's obviously battered and injured, sporting black gloves, the brown tactical pants, boots and a sleeveless tank top.
The teaser then cuts off and shows the title of Shadow of the Tomb Raider, with the 'O' replaced with an eclipse icon.
Starting next Monday, March 19th, a puzzle will go live over on the official Tomb Raider website, where players will be able to complete a puzzle and unlock some new information about the upcoming game.
In a way, the announcement is nothing new. Based on the ending of Rise of the Tomb Raider it was quite obvious that there was going to be a third game covering Lara Croft's origin story. A lot of people are hoping that the new games finally bring back the more cool and collected Croft from the original Tomb Raider games leading up to Tomb Raider: Underworld, but it seems as if Crystal Dynamics wants a more gritty take on the character.
If you've been a fan of the 2013 reboot and Rise of the Tomb Raider, you can look for the newest game to arrive on home consoles and PC starting this September.
Staff Writer at CinemaBlend.
Your Daily Blend of Entertainment News
Thank you for signing up to CinemaBlend. You will receive a verification email shortly.
There was a problem. Please refresh the page and try again.