EA Is Trying To Make Games More Accessible To Disabled Players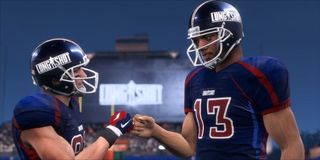 (Image credit: Electronic Arts)
Increasing accessibility for video games has been a target goal for many AAA publishers, including Sony, Ubisoft and Nintendo. Well, joining them is Electronic Arts, who has a new initiative to help make its titles more accessible to gamers.
Over on the official EA website, the company announced that it's opening up a new Accessibility Portal. This portal will allow gamers to access news, blogs, and discussion threads regarding information about Electronic Arts titles and the accessibility functionality for those games.
The portal will allow gamers to not only look up information about accessibility in certain EA titles, but the post makes it known that gamers will also be able to put in feature change requests, presumably for those with accessibility options that may need some refinements, balancing or tweaking.
There are text manuals for the hearing impaired, screen-reading guides for the blind or visually impaired, and other forums and topics designed around certain disabilities.
EA has actually been producing content and guides for disabled gamers as far back as 2016. Other developers, such as Blizzard Entertainment, have also been making strides in accommodating disabled gamers as well. In fact, Ubisoft hired Josh Straub as a consultant for some of its games after Straub put together a series of guides and reviews for various video games that rated them how well they could be accessed by different types of disabled gamers. It was called the D.A.G.E.R. System.
Naughty Dog also took some hints form the disabled community and re-arranged the way games like Uncharted 4 could be played, so those who could only use one hand could do so much easier than compared to the control scheme setup in Uncharted 2 and Uncharted 3.
In the case of Electronic Arts, the publisher will be providing a disability resource guide for gamers with disabilities so that they will know what gamers support certain kinds of accessibility options.
Right now the portal has three tabs for EA Sports UFC 3, Madden NFL and the NHL Hockey series. The tabs will take you the page where you'll be able to see what sort of accessibility options are made available in the games themselves, which allow you to modify the settings to best suit your play-style.
There are also guides for both PS4 and Xbox One gamers, including a tutorial on how to make the most out of a game like EA Sports UFC 3 for blind and visually impaired gamers. Another alternative is having text-based manuals available that cover all the basics present in the video tutorial guides available in the game.
The accessibility guides for the Electronic Arts titles and EA Sports games are currently available. However, EA has plans on expanding the compendium of accessibility guides so that more games will be featured on the site, and for the games that aren't present, gamers will be able to request information about these titles.
EA may receive plenty of backlash and criticism for how it handled the DLC in games like _Star Wars: Battlefront 2, _but here it appears that EA is definitely doing a good thing by helping out the disabled community.
Your Daily Blend of Entertainment News
Staff Writer at CinemaBlend.