Final Fantasy And Tomb Raider Are Crossing Over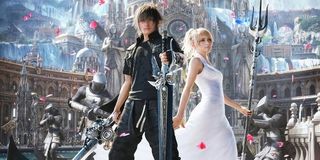 (Image credit: Square Enix)
Well here's one branded cross-over a lot of people probably didn't see coming, but it makes a lot of sense given who the publisher is. Nevertheless, Square Enix announced that two of its biggest brands, Tomb Raider and Final Fantasy, are crossing over with upcoming content for both titles.
IGN is reporting that Shadow of the Tomb Raider and Final Fantasy XV will support crossover content. The news came courtesy of a panel during this week's PAX East event that took place in Boston, Massachusetts, where Square revealed there are plans to have a cross-over between Final Fantasy XV and the upcoming Shadow of the Tomb Raider. The only thing they revealed about the crossover is a poster showing the logo for the upcoming Tomb Raider game that's due out this September for the Xbox One, PlayStation 4 and PC, along with the logo for Final Fantasy XV, which was released earlier this year for PC but came out back in late 2016 for the Xbox One an PS4.
The logo doesn't really give anything away as to what we can expect from the crossover other than that it is a crossover and that there will be some sort of admixture of content from both games appearing in the other.
The likelihood is that this will be similar to the Final Fantasy XV crossover with Ubisoft's Assassin's Creed series, where the developers featured the classic Assassin's garb for Noctis to wear during the event, along with a grappling hook, similar to what was featured in Assassin's Creed: Syndicate.
Square Enix certainly isn't afraid of crossover content. The company also did some crossovers with Hitman and Sleeping Dogs way back in 2012, allowing gamers to dress up Wei Shen in Agent 47's garb along with having access to a silenced pistol. There was also a crossover between Sleeping Dogs and Deus Ex: Human Revolution, featuring Adam Jensen's armor. And finally, there was crossover content between Just Cause and Sleeping Dogs.
Square hasn't shied away from having some of its titles mix and match content, so it's not too surprising that this announcement came between Tomb Raider and Final Fantasy XV.
The real question is, what sort of content will be included in the crossover? Will we see costumes? Characters? Weapons? Maybe even levels?
I'm sure there are a variety of different ways for the crossover to work and Square will likely reveal exactly what the company has in mind leading up to the event actually taking place.
This could link up with the new DLC that the company has planned for release later this year for Final Fantasy XV, which features a number of new alternate stories for some of the side-characters who were featured in the original story.
If I were a betting man I would assume that the someone like Aranea might receive a Lara Croft outfit featuring either her classic clothes or her rebooted outfit.
But the bigger question is what would go from Final Fantasy into the Shadow of the Tomb Raider? Perhaps Noct's Kingsglaive abilities? I guess we'll find out soon enough.
Your Daily Blend of Entertainment News
Staff Writer at CinemaBlend.