Final Fantasy XV Pocket Edition Is Now Available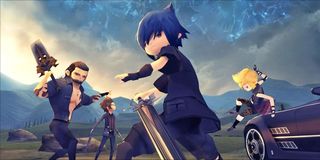 (Image credit: Square Enix)
For a game as expensive and with as controversial a development slate as Final Fantasy XV, it should come as no surprise that Square Enix is going to find any and every way possible to squeeze as much out of the property to make as much back from its investment. So, with that being said, the game has been ported to mobile devices and is currently available for download.
Game Informer is reporting that you can currently download the game right now for iOS devices and Android smartphones. The article notes that the game was originally supposed to release on the mobile devices on February 9th, but was actually made available a day earlier, with plenty of mobile gamers downloading the game from the respective online store pages.
Take note that the full game isn't available yet. Mobile users will only have access to the game's first chapter right now, which is currently available for download at no cost. You can grab it for your respective mobile device immediately.
The game will include a full 10 chapters, which will be released over time for both iOS and Android users. What's interesting here is that the full game of Final Fantasy XV has a lot more than just 10 chapters. This would mean that either Square Enix cut down on a lot of the more filler content from the main game, or the developers decided to axe out a lot of the more tragic material that started coming into play after Chapter 10. It's an interesting design decision nonetheless, especially given how controversial some chapters in the game were, like the, very debated, Chapter 13, which saw Noct and the group in a perilous enough situation that it made gameplay so difficult for some players they complained about it enough for the game director to completely change it up and make it a lot more palatable.
Gameplay in Final Fantasy XV for mobile devices takes place by using the screen to tap left, right, up and down to move Noctis and the rest of the action-oriented boy band around the screen. The tap-to-play feature was also extended over to the game's combat system, which previously relied on a complex setup of having to target, combo enemies, and then zip away from the fight using Noctis' teleportation abilities. Instead, you'll just click around to have Noct and the band attacking foes and dishing out damage.
This is likely an easy way to get more casual players into Final Fantasy, especially if they were afraid of the daunting control setup usually associated with PS4 or Xbox One controllers.
There are some requirements for your mobile device before you dive in, though. You will need an Android device that is 5.0 or later, and it will need a processor running at 1.5GHz or higher, along with 2GB of RAM. You'll also need 5GB of free space.
The supported iOS range will require iOS 11.1 or higher installed, which greatly limits which versions of the mobile devices will be supported. In plain terms you'll need at least an iPhone 6 or higher, or an iPad 5th generation or later, or an iPad Mini 4 or later. Just like with the Android counterpart, you'll also need 5GB of free space to run Final Fantasy XV.
Your Daily Blend of Entertainment News
Staff Writer at CinemaBlend.