Rabbids Peach Dances To Beyonce In Just Dance Trailer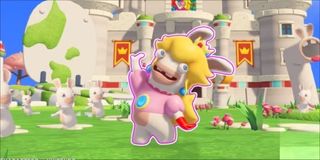 The release of Just Dance 2018 for the Nintendo Switch opened up a lot of possibilities for the console, including crossover content from some of Ubisoft's other games. More specifically, there's a video showcasing a crossover of the Rabbids version of Princess Peach from Mario + Rabbids: Kingdom Battle dancing to Beyonce's "Naughty Girl".
The video of the Rabbids Peach was posted up over on the official Nintendo YouTube channel. It's only a minute long and starts off with Rabbids Peach doing a similar kind of dance routine to what you would expect from Beyonce.
The background is littered with other Rabbid backup dancers, shuffling and moving their hands and feet to the beat of the music, while Princess Peach's castle stands erect in the background, and the washing machine-looking portals are nestled on the other side of the screen.
The gameplay is still typical Just Dance, requiring players to stay in sync with the rhythm of the music, and manage the beats of the dance routine to the song. The dance icons scroll through at the bottom of the screen, with the character silhouettes being represented by outlines of the Rabbids.
Players are required to pull of the motions depicted in the images. Those who manage to perform the moves in rhythm to the beat of the music will acquire higher scores.
Beyonce's "Naughty Girl" is just one of 300 songs featured in Just Dance 2018, which came out last fall in 2017 for home consoles. The Ubisoft dance title is just the latest in a long line of games that have come out within the franchise.
The comment section on the video isn't entirely happy about the inclusion of the Rabbid dance trainer, mainly because Rabbid Peach doing rather exotic dances to Beyonce's "Naughty Girl" has already mentally scarred some people who just weren't prepared for the kind of imagery present in the video above.
Nintendo allowed Ubisoft to use the Super Mario characters and themes in Mario + Rabbids: Kingdom Battle. The game sold well enough for what it is and I suppose Nintendo allowed Ubisoft to go a step further by using the Mario-themed characters from the turn-based RPG in Ubisoft's other title, Just Dance 2018.
Not everyone was mentally unprepared for the crossover in the multiplayer dancing game. Some gamers were quite thrilled to see the characters hopping from one game to the next and bringing some levity and hilarity to the dancing game. And besides, if everyone is having a good time being goofy and enjoying themselves dancing, then isn't that the whole point? I'm sure seeing those swinging hips of Rabbids Peach is well worth the laughs that come with the crossover... right? Right?!
Your Daily Blend of Entertainment News
Staff Writer at CinemaBlend.