Korean Game Developers Hit With Massive Fine Over Loot Boxes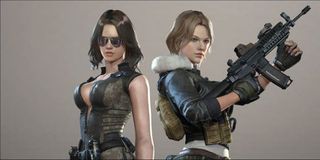 (Image credit: Nexon)
A lot of gamers absolutely abhor loot boxes as a form of premium microtransactions in games. They've been desperately trying to get regulation on the loot box epidemic but to no avail. The next best thing that some gamers were able to do was to sic the Federal Trade Commission on companies exploiting gamers with loot boxes, and that's exactly what happened to some of the top South Korean game studios.
The Korea Herald is reporting that Nexon, one of the top publishers in the region, was hit with multiple fines from the Korean Federal Trade Commission. Nexon Korea incurred a 939 million won penalty along with being fined 5.5 million won. That roughly comes up to $945,200 USD.
Nexon wasn't alone in the fines, there was also Netmarble, who received a 45 million won penalty and a fine of 15 million won, totaling around $56,000 in USD.
Another South Korean studio, NextFloor, also received a 5 million won fine, which comes up to just under $4,700 in USD.
Not only did all three companies get hit with fines and penalties, but the Federal Trade Commission also advised the companies to alter their monetary practices when it comes to microtransactions.
The FTC caught wind of the issue when Nexon held an event for Sudden Attack where users would have to purchase loot boxes in order to acquire 16 puzzle pieces to put together a puzzle and acquire a special prize. The loot boxes cost 900 won each, which comes up to just under $1. While this doesn't sound like much, the major issue came from the fact that the roll chance for collecting a puzzle piece was so low that gamers would have to spend hundreds of dollars each to collect the puzzle pieces.
In fact, the FTC discovered that the roll chance for collecting a puzzle piece from the loot boxes for the event was as low as 0.5 percent. Nexon did not disclose the roll chance at any point in the game or out of the game, leaving gamers with no way to know exactly how much they would be spending in order to acquire the puzzle pieces or what their chances were per roll.
The FTC's biggest issue with this was that Nexon promoted the Sudden Attack event as if gamers had an equal opportunity of acquiring the puzzle pieces by purchasing the loot boxes, when that clearly wasn't the case.
Many gamers have been complaining about loot boxes in games, stating that they're a form of gambling since it's like playing a slot machine where you spend money on an opportunity to get what you want, but there's a fairly low chance that you'll actually acquire the item you want.
All publishers and many of the regulatory bodies such as the ESA and ESRB, have denied that premium loot boxes are a form of gambling. In fact, Nexon challenged the FTC's ruling, stating that the event held for Sudden Attack clearly indicated that there was a "random provision" for acquiring the puzzle pieces and that the FTC misinterpreted that this meant that there were equal odds of obtaining the puzzle pieces.
EA and DICE also had to deal with public backlash over the intended loot box implementation into Star Wars: Battlefront II, and instead of fighting the public and lawmakers, EA simply removed the premium loot boxes. It appears Nexon feels it has a case against the FTC and will challenge the ruling by seeking an additional review of the issue.
Staff Writer at CinemaBlend.
Your Daily Blend of Entertainment News
Thank you for signing up to CinemaBlend. You will receive a verification email shortly.
There was a problem. Please refresh the page and try again.