God Of War Has Shattered A PlayStation Sales Record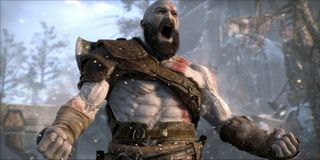 God of War has had a tremendous first week, selling 3.1 million copies in just three days. With that many folks already joining Kratos on his journey, it's no wonder the game has broken a pretty impressive record. God of War is now the fastest-selling first party game on the PlayStation 4.
Over on the PlayStation Blog, SIEA VP of Marketing Asad Qizilbash has announced the April 20-22 sell-through for God of War, pointing out that Kratos and BOY! have reached new heights not only for the series, but for any first party game on the PS4. Moving 3.1 million units globally in less than half a week makes it the fastest-selling exclusive, a pretty surprising feat when you consider it's stacked against giants like Uncharted 4 and last year's out-of-left-field hit, Horizon: Zero Dawn.
As noted by Forbes, Uncharted 4 moved 2.7 million copies in its first week on the market, with Horizon selling 2.6 million in two weeks. Even the PS3 powerhouse, The Last of Us, couldn't keep pace, moving 3.4 million in three weeks. Nobody is saying those earlier accomplishments aren't impressive, just that their stats highlight just how impressive it is that Santa Monica Studio and Sony managed to more than 3 million copies of God of War in as many days.
Back to the blog post, Santa Monica Studio head Shannon Studstill said none of this would have been possible without the support of the fans and, obviously, Director Cory Barlog and his team that poured five years' worth of effort into this single game.
All that time and effort paid off, though, as God of War is a truly expansive game and a technical marvel to boot. Players are clocking upwards of 40 hours in their first playthrough, depending on how many of the optional quests they decide to go on. The narrative itself is already big, but some of God of War's best moments are off the beaten path and can be skipped entirely. That's a bold design choice since we figure anyone spending that much time on a game would want to make sure everyone who played it got to see everything they created.
We have to figure that at least part of God of War's success can be attributed to not only its glowing reviews, but also the timing of their arrival. Nowadays, just about every review embargo lifts the day a game launches. The fact that the embargo for God of War was a full week before launch not only speaks volumes for Sony/SMS' confidence concerning the game, but it also gave customers enough time to get swept up in the hype and run out and buy a copy on day one...Or maybe it was going to pull down big numbers either way. The point is, God of War is off to a great start.
Your Daily Blend of Entertainment News
Staff Writer for CinemaBlend.
Your Daily Blend of Entertainment News
Thank you for signing up to CinemaBlend. You will receive a verification email shortly.
There was a problem. Please refresh the page and try again.