Star Wars Battlefront II Is Getting A Han Solo Season Ahead Of Solo: A Star Wars Story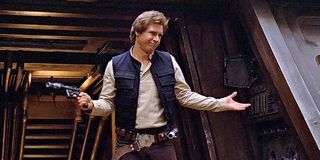 Before Han Solo can star in his own movie, the character is getting some time in the spotlight in Star Wars: Battlefront II. In celebration of the upcoming Solo film, the scruffy nerf herder will serve as a theme for both in-game events and cosmetic items.
While Solo: A Star Wars Story won't hit the silver screen until May 25, the infamous scoundrel with a heart of gold will be the main attraction of "The Han Solo Season" kicking off in Battlefront II starting May 16. According to EA, the celebration will include all sorts of in-game activities, including special maps, modes and even some fresh duds for various characters.
The content we're about to list is actually only the beginning of the celebration, too. Apparently, new Solo-themed content will be introduced into Battlefront II sometime in June, so we've got our fingers crossed that will mean new characters and maps pulled directly from the upcoming film. No word yet on what that content will actually be, but EA said to expect an announcement soon. As for what you can expect to start enjoying on May 16, here's a rundown of the initial phase of the Solo Season. As a side note, anyone who doesn't like to team up in squads could argue every season is a solo season and, yes, I realize how bad that joke was.
First up, players will be invited to revisit Jabba's Palace in online multiplayer. This map will be up for exploration in Blast, Hero Showdown or Heroes vs. Villains mode, bringing one of the late maps from the first Battlefront game into the sequel's roster.
A new Hero Showdown Mode is being introduced as a round-based elimination mode. This mode is made for duos, with teams picking their favorite Heroes or Villains to take into battle. What's extra cool about this mode is that, once a round is over, the characters from the losing side cannot be picked again. Think of your roster of Heroes and Villains as your dwindling army.
Next up, it wouldn't be a Battlefront season without some new attire. You'll be able to buy these new appearances with Credits or Crystals, and the outfits are inspired by the opening act of Star Wars: The Return of the Jedi. Lando, for instance, will have a Skiff Guard disguise, with Leia able to don bounty hunter Boushh's gear.
Finally, folks who enjoy the aerial combat in Battlefront II will be happy to see Starfighter Custom Arcade enter the fray. You'll be able to pick your ship, pick your mode, and simply take flight in order to hone your piloting skills.
Again, more content will be coming sometime in June, so keep your eye out for additional Battlefront II updates in the coming weeks.
Your Daily Blend of Entertainment News
Staff Writer for CinemaBlend.