Microsoft Wants To Get The Adaptive Controller On Other Consoles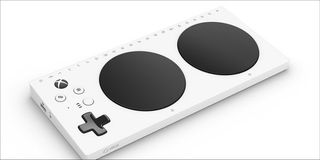 (Image credit: Microsoft)
One of the big surprises that Microsoft made this past season was an announcement about developing and releasing a series of peripherals and accessories under an Adaptive Controller package. The package sees gamers being able to modify and customize their control scheme based on their playing preference, specifically if they suffer from a debilitating physical ailment or disease. The controller received widespread praise from the industry, but for Microsoft that wasn't enough. In fact, Microsoft feels as if the other consoles could also use the Adaptive Controller and wants to find a way to get it into the hands of Nintendo and PlayStation gamers as well.
Gamespot picked up the news during the busy E3 event this past week, reporting that the current Adaptive Controller works on all Xbox One devices and Windows 10 PCs, but Microsoft isn't content keeping the controller platform exclusive. According to Evelyn Thomas, the program manager for the Adaptive Controller project, the team wants the device to work on the Sony PlayStation 4 and Nintendo Switch, with Thomas saying,
Thomas is correct.
If the Adaptive Controller works "everywhere", then it means no matter what gaming device you play on, and no matter what your disability, you'll be able to enjoy your favorite video games using the Adaptive Controller. This means those who suffer from multiple sclerosis who have a Nintendo Switch will be able to customize the controller to play games like Super Mario Odyssey or Mario Tennis Aces.
It also indicated those with motorskill disabilities who play on the PlayStation 4 will be able to experience games like DriveClub or Uncharted without having to fight against the controls to enjoy the game.
The development of the Adaptive Controller was to meet the needs of disabled gamers who enjoy gaming, but may not be able to physically make use of the standardized controllers.
The Adaptive Controller is already being designed with forward-looking technology in mind. This means that while it currently works on the Xbox One, Xbox One S and Xbox One X, it will also be compatible with whatever new game console Microsoft comes out with next.
The Adaptive Controller features a number of peripherals that can be attached to a basic controller board that has a number of 3.5mm jacks on the back. You can plug in pedals, knobs, joysticks, and other devices in order to help aid gamers with adapting to the kind of control scheme that they want to use.
I don't know how well the controller will work with some Nintendo Switch games that rely on IR readers and gyroscopic controls, but I suppose they could find some ways around that if they attempt to work with Nintendo.
Your Daily Blend of Entertainment News
Staff Writer at CinemaBlend.