Death Stranding's E3 Trailer Contained A Strange Hidden Message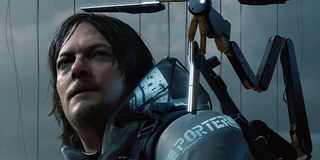 As if Death Stranding wasn't already confusing enough, we now know that Director Hideo Kojima has hidden at least one big Easter egg within the recent E3 2018 trailer. It involves a necklace worn by Lindsay Wagner's character in the closing moments of the clip, which sent clever viewers down a brief rabbit hole of discovery.
Up until the PlayStation E3 2018 showcase, we didn't really know much about Death Stranding. We knew the game would star Norman Reedus, Mads Mikkelsen and even included film director Guillermo del Toro in the trailers, but all of the clips up to this point felt more like trips through someone's bizarre dreams rather than a video game. The latest trailer offered just as many questions as answers, but at least we're starting to get a feel for what, exactly, Death Stranding will be about.
In the midst of Reedus' character doing a lot of walking, hiding from invisible monsters and even pulling off a freaking toenail, we also catch a glimpse of a new character played by Lindsay Wagner, aged to look like she did in the late '70s when she starred as The Bionic Woman. In that brief scene, Wagner's character can be seen wearing a necklace that, to the casual observer, appears to be nothing more than a decorative golden trinket. This is Kojima we're talking about, though, so of course there's more to it than that.
As Polygon is reporting, fans have used a poster of Wagner's character showing off that same necklace to unravel a rather clever musical mystery. The source of this clever bit of sleuthing appears to be Russian Twitter user Nik Ambors.
In short, it appears the necklace is using quipu, an ancient form of record keeping that involved tying knots. The original report notes that the most prevalent use of quipu was from civilizations of the Andes, while the ancient civilizations in both China and Hawaii have also been known to use the form of communication.
As it turns out, Kojima may have dropped a hint about this back in 2017, when he visited an art exhibit all about the "Ancient Civilizations of the Andes." He mentioned quipu in the tweet, as well as included pictures.
As folks started to unravel what the meaning might be, it appears Kojima himself offered up a small, color-coded hint, along with the message that he was only offering "part of the mystery" and that "our game is still in play."
From there, folks quickly figured out that the code matched with the melody from a 2017 song called "Give Me An Answer" by Low Roar, an Icelandic band. That's appropriate since Kojima actually used another Low Roar song in the 2016 E3 trailer for Death Stranding and they will apparently be doing the soundtrack for the game.
About a year ago, Low Roar explained that the game actually influenced the music video, which apparently has something to do with people being pulled into the world of Death Stranding. If you want to keep digging, you can find the video below.
Of course, what any of this actually means isn't entirely clear. It appears to be a puzzle only for the sake of it. With Death Stranding still a long way off, expect lots more Kojima weirdness to come.
Your Daily Blend of Entertainment News
Staff Writer for CinemaBlend.