Forza Horizon 4's Car List Leaked Early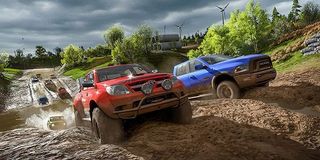 With Forza Horizon 4 officially announced during E3 2018, many fans have started eagerly anticipating what vehicles will make up the upcoming racer's roster. It looks like some of the guesswork has been cut out of that process, though, as a recent early download of the game has revealed a whopping 450 vehicles. While this list might not be finalized just yet, it certainly offers plenty of content for automobile aficionados to dissect leading into the game's actual launch.
Every once in a blue moon, a game's digital pre-order will trigger its download a bit early. Still, Forza Horizon 4 isn't due out until Oct. 11, which is what makes this recent case of "oopsie-daisy" a bit unique. With nearly four months until launch, apparently, several folks who pre-ordered the game on PC were surprised to discover recently that FH4 was already downloading onto their computers.
It turns out that those downloads were incomplete and anyone affected has been given the green light to just delete whatever has been downloaded, as it won't have an impact on the game when it starts downloading at its prescribed time. However, while digging through some of those files, folks have come up with a list of 450 vehicles potentially included in the game.
Over on Polygon, they've tracked down a detailed list of those 450 vehicles, conveniently divided by manufacturer. The post is flagged as being a spoiler, as some folks like to dive into a Forza game and be surprised by the vehicles they discover. It's worth noting, though, that this might not be a complete list. Or, it might even be a totally complete list, including vehicles planned for inclusion down the road as DLC.
The point is, you shouldn't bank on this roster of FH4 vehicles until the game is ready to roll onto the showroom floor. As noted in the original article, a similar leak happened ahead of the launch of Forza Horizon 3, and not all of the cars included in the list popped up in the game. Similarly, cars not included in the list did appear in the game so, again, don't consider this a final rundown. It's entirely possible that deals may be made or fall through between now and October.
Still, no matter how you cut it, 450 vehicles is a heck of a lot for one racing game. Some fans seem upset that vehicles from previous Forza games are missing, but did we mention there are 450 freaking vehicles supposedly included? Sure, we're being a bit cynical here, but that's only due to the fact that there appears to be an embarrassment of riches in FH4, so we have a hard time being too upset if some cars haven't currently made the cut.
If you've got some time on your hands, feel free to give the full list a gander and let us know in the comments what vehicles you're most excited to get behind the wheel of in this upcoming Microsoft exclusive.
Staff Writer for CinemaBlend.
Your Daily Blend of Entertainment News
Thank you for signing up to CinemaBlend. You will receive a verification email shortly.
There was a problem. Please refresh the page and try again.