How Often New Forza Games Will Be Released, According To Turn 10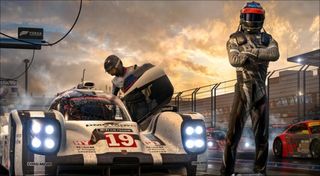 It seems like every year we have a new Forza Motorsport rolled out onto the market. Lead developer Turn 10 Studios has been working on the series for more than a decade now, and a software architect at Turn 10 recently talked about how often new Forza games would be released.
Speaking with Gamespot, Turn 10 Studios software architect Chris Tector explained...
Turn 10 isn't pulling double duty, though. The studio receives help from Playground Games, who have taken up working on the Forza Horizon series. Just last year it pumped out Forza Horizon 3 for the Xbox One and Windows 10, and this year Turn 10 is back in the driver seat prepping to release the highly anticipated Forza Motorsport 7, featuring the Porsche license, which was just recently freed up from the exclusivity deal that the car manufacturer had with Electronic Arts.
It was mentioned in the interview with Gamespot that there's now an extra challenge of not just pumping out games on an annual basis (although technically it would be biannual for the different brands) there's also the added challenge of dealing with the Xbox One X.
We haven't seen what Forza Motorsport 7 looks like on the vanilla Xbox One or Xbox One S, but we have seen plenty of demo footage of the game running at 4K and 60 frames per second on the Xbox One X hardware. It was one of the few games running natively on Microsoft's new mid-gen refresh console.
What's more is that Forza Motorsport 7 on the Xbox One X is rocking some highly advanced graphical features, the likes of which aren't even present in high-end racing sims like Project CARS 2 or its arch-rival on the PlayStation platforms, Gran Turismo Sport. However, in the case of Gran Turismo Sport, the game had to undergo some severe downgrades in order to accommodate the PlayStation VR mode.
With Tector confirming that Forza will continue to be an annual series (something most people recognized since the first Forza Horizon landed on the market), I'm guessing that means next year we'll see Forza Horizon 4?
The Forza series has been going on since 2005, storming onto the market as a legitimate threat to Gran Turismo. Since then, Turn 10 has been pumping out games left and right within the franchise, with Forza 2 landing on the market in 2007, just two years later, and then Forza Motorsport 3 following up on that just two years later in 2009.
After Forza Motorsport 4 in 2011, Playground Games stepped into the picture with the first Forza Horizon in 2012. Since then the two studios have been alternating the releases for the past five years, and it looks like that trend will continue moving forward.
You can look to get your hands on Forza Motorsport 7 featuring the exclusive line-up of Porsche vehicles starting October 3rd.
Your Daily Blend of Entertainment News
Staff Writer at CinemaBlend.
Your Daily Blend of Entertainment News
Thank you for signing up to CinemaBlend. You will receive a verification email shortly.
There was a problem. Please refresh the page and try again.