Marvel's Spider-Man Has Gone Gold And Now We're Getting Excited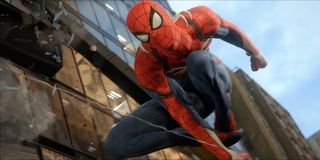 Game development is no easy task. You'll spend inordinate amounts of time stressing over getting certain features to work. Stressing over whether or not you can use certain costumes or characters in a licensed property. And, stressing over whether or not the mechanical loops are in place and not bugged out when it's time to launch the game. If you can manage to survive all of that, you'll manage to make it to a finish line called "going gold." The team at Insomniac Games managed to cross the finish line of development recently for Marvel's Spider-Man, and the team was proud to announce that the game has officially gone gold for the PlayStation 4, which means that it's time for fans to start getting excited.
As pointed out in the tweet on Insomniac Games' Twitter account, Marvel's Spider-Man for the PS4 has officially gone gold. What this means is that all core development has been completed and the final gold master disc has been burned and sent off to be pressed for distribution and shipping. This is so that the game will be ready for release on September 7th when it launches exclusively for the PlayStation 4.
The game's production wasn't always a merry-go-round of good tidings and fun times. Insomniac briefly talked about some of the restrictions placed on the studio when it came to how certain characters were portrayed in the game, how the team had access to certain materials and not others, and how there were certain suits they could use and certain suits they couldn't.
Part of the problem is that there's a cross-breed of licensing issues that Insomniac had to tiptoe around. This is because Insomniac is making the game under the Sony publishing label, which has access to some of Marvel's properties, including X-Men and Spider-Man. The problem, however, is that not all of Spider-Man's licensing is under Sony's label, and Marvel still has access to some of it for the Marvel Cinematic Universe. This creates a rather perplexing conundrum where Insomniac can't really dive into the MCU too much, despite having some small Easter Eggs present in the game like the Avenger's Tower.
However, the team still put in tons of work and time into building the world of Marvel's Spider-Man to include as much content as possible that fans have been craving. There's a story that potentially centers around the Sinister Six, and a large open-world for Spider-Man to explore where gamers get to utilize his new and improved web-slinging capabilities. Insomniac made sure that his animations were on-point and that the web-slinging physics are as smooth and as fluid as can be.
The combat is very reminiscent of Rocksteady's highly lauded Batman: Arkham games, and the open-world is about as expansive as Grand Theft Auto or Saints Row.
You can look for Marvel's Spider-Man to launch exclusively for the PlayStation 4 starting September 7th, in just a few weeks.
Staff Writer at CinemaBlend.