Star Wars: The Old Republic Announces Galactic Legend Update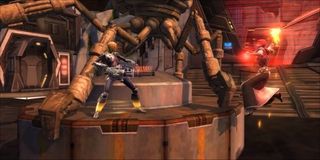 (Image credit: Electronic Arts)
Electronic Arts and BioWare's Star Wars: The Old Republic is still running strong, even after seven years of being active. That's a lifetime in the realm of MMORPGs. But, when you have a stable base of fans who love the product and can't get enough Star Wars, it's easy to see how a game like The Old Republic can run for as long as it has. The newest update definitely gives back to the fandom in the form of using in-universe lore to expand on the PvP front with some interesting new modes for those who like to prove their worth in the arena. You don't even have to wait for the update to go live, because it's already up and available for The Old Republic players.
Over on the official website, there are details rolled out for update 5.9.2, which introduces the Galactic Legend content, themed around the all new Arena of Death mode.
The update centers around Giradda the Hutt's new Arena of Death, Mandalorian Battle Ring. It's set on the planet of Rishi and features 4-vs-4 PvP options in a best three out of five deathmatch in order to win credits, fame and gear.
The update also adds an all new stronghold option, where you can level up your fame and acquire a Rishi Hideout for you and your friends, or as a stronghold in which you and your guild mates can plan your next big attack.
There's also the ability to host free-for-all and team-based battles in the new death arenas within your stronghold. It's a good way to settle the score with another rival guild in Star Wars: The Old Republic.
You'll be able to customize the stronghold and setup how it looks, giving it your own identity. You'll also be able to select where the battle arenas take place while hosting your stronghold events, including having fights in the cove, or on the skydeck of a patrol carrier. You can also choose to fight in one-on-one or 4-vs-4 battles with squads.
Of course, given how much of a focus the developers are putting into PvP modes that means, obviously, there are going to be some refinements to how PvP is handled in the game. For the season 9 rollout, BioWare has refined the PvP 8-vs-8 warzone modes, along with ensuring cross-faction support for the 12-vs-12 galactic battles.
The Old Republic fans will also get to experience these battles a lot more frequently thanks to the improved matchmaking that has been overhauled. In a lot of games PvP matchmaking can make or break the feature, because if you're matched up against people who are too high or too low in level, or with bad ping, it can easily ruin the PvP experience for a lot of players.
The PvP overhaul isn't without its rewards, though. The new Galactic Legend update also includes all new PvP-specific rewards, including a Battleworn Holo-Rancor, a Centurion Defender armor set, and all new accessories and other character customization items. Despite getting off to a rocky start, the game seems to have recovered over the years.
The update for Star Wars: The Old Republic is live right now.
Your Daily Blend of Entertainment News
Staff Writer at CinemaBlend.