Destiny 2: Forsaken Clip Shows Cayde-6 Won't Go Down Easy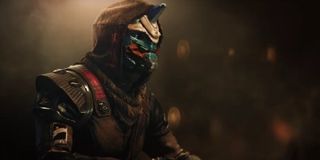 A new trailer for Destiny 2: Forsaken has surfaced in the midst of Gamescom, and it's a real tearjerker for fans of the series, especially those who love the wisecracking Vanguard leader, Cayde-6. It's called "Last Stand of the Gunslinger," and it once again makes a point Bungie has been harping on for the past few months: One of the galaxy's brightest stars is about to be snuffed out.
This latest trailer was rolled out in the midst of the Activition/Bungie stage show hosted out of Gamescom, the massive games convention going down in Germany right now. It opens with Cayde-6 arriving at the Prison of Elders just as members of the Scorn are staging a breakout. Obviously, nobody is looking to go back to their cell willingly, so a massive fight breaks out. Cayde handles business admirably, getting in a few quips while he jumps around and blasts countless Fallen with ease. Their numbers are overwhelming, though, and one of the Scorn generals manages to destroy Cayde's Ghost, meaning he can't make a fast exit or, worse yet, be brought back if he falls in battle. Things go sideways and Cayde even gets to drop in an absolutely gut-wrenching one-liner before the trailer draws to a close.
If you've been following the media leading up to the Sept. 4 launch of Forsaken, you'll know that all of this eventually leads to Cayde being executed by the Awoken prince, Uldren Sov. The result is that vengeance falls squarely on the shoulders of the player. You job will be to venture to a couple of brand new game maps, hunt down the Scorn, destroy their eight generals and, if there's any justice in this world, eventually come face to face with Uldren himself.
Destiny 2 has had a pretty rocky first year on the market, with players and critics first singing the game's praises at launch only to discover that a fresh start means that there are far too few endgame activities to keep you busy for more than a couple of months. The first couple of DLC updates have improved things a bit, but neither seemed to really blow anybody's hair back.
Bungie is saying that Forsaken will help beef up the game considerably, offering a couple of new destinations to explore, new campaign content to work through, all sorts of extra missions to tackle, new Strikes, a new Raid, loads of new gear, new multiplayer maps and even a new multiplayer mode, Gambit. On top of that, they're taking this opportunity to rework several of the game's systems, including the introduction of a new weapon loadout that allows players to get more creative with how they fight. Oh, and there are nine new classes to master, in case you get bored.
Finally, if you want to try Gambit a little early, Bungie will be rolling out a special trial of the game mode starting on Sept. 1, available to all players beginning at 10 a.m. It'll only be live for about a day, but then the expansion drops on Sept. 4 with Gambit appearing in regular rotation.
Staff Writer for CinemaBlend.
Your Daily Blend of Entertainment News
Thank you for signing up to CinemaBlend. You will receive a verification email shortly.
There was a problem. Please refresh the page and try again.