Reigns: Game Of Thrones Will Let You Decide Who Sits On The Iron Throne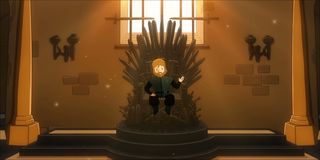 One of the most popular shows on premium cable at the moment is Game of Thrones, based on Geroge R.R. Martin's A Song of Fire and Ice. The show has gained a massive following on HBO, and continues to enthrall and captivate audiences worldwide with its Mortal Kombat meets softcore porn take on medieval high-fantasy storytelling. And like any ubiquitous pop-cultural property that reaches a zenith of saturation in mind-share, most companies look to cash in on that property with spin-offs and cross-media collaborations. In this case, HBO and Devolver Digital have teamed up and gamers who can't get enough of Game of Thrones will have an opportunity to take control of the machinations and backstabbing dealings in order to seat a king or queen on the Iron Throne as they see fit.
The trailer reveals that Devolver Digital is working with Nerial and HBO for the mobile-based game Reigns: Game of Thrones. The title will release on the iTunes App Store and the Google Play distribution platform starting this October for mobile devices, along with having an outing on Steam for PC. You can also pre-order the game right now from over on the Reigns website.
The trailer itself is only a minute long, featuring animated sequences of various characters from the television show and book series sitting atop the throne. Each character has their own little visual motif that changes as they get their brief bit in the spotlight. After a handful of characters are introduced, we then see a three-eyed raven land on the arm rest before flying into the screen and the logo appearing.
The trailer doesn't showcase any gameplay whatsoever, so we have no idea what the actual gameplay is like based on the trailer alone.
However, there are some additional details on the game that are made available over on the Steam page, where we see that the visuals are very similar to what we see depicted in the trailer above.
Reigns: Game of Thrones is classified as an indie-RPG, and we see that a lot of the content appears to consist of tarot-like cards that feature dialogue sequences and several other tabs at the top that change and alter based on certain conditions. You're able to make choices when dealing with different characters while also attempting to complete various objectives and tasks that are outlined in the bottom right hand corner of the screen.
The gameplay is apparently really simple, as players will simply need to swipe left or right to make their choices. What's unique is that you'll be able to decide the fate of Westeros in a way that diverts greatly from how things played out in the television show.
The game will even include music based on the now iconic work of composer Ramin Djawadi who did the theme song for Game of Thrones. You can look for the game to go live this October for Steam on PC and on app stores for mobile devices.
Staff Writer at CinemaBlend.
Your Daily Blend of Entertainment News
Thank you for signing up to CinemaBlend. You will receive a verification email shortly.
There was a problem. Please refresh the page and try again.