Get A Free Spider-Man Theme For Your PS4 Right Now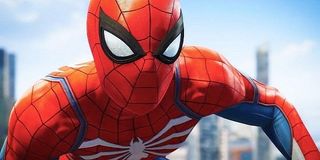 With Marvel's Spider-Man set to launch on the PlayStation 4 in just a few hours, there's still time for would-be wall-crawlers to snag a free theme to make their console menu truly "amazing." You've got until midnight Eastern time, so you better move with a quickness.
Over on the PlayStation Store, Sony is giving away a free theme inspired by Marvel's Spider-Man, which launches in about six hours as of this writing. That number is important because that's exactly when the free theme offer will disappear, too.
In order to grab your free theme, simply head on over to the game's official countdown clock on the store, sign in to your PlayStation account, scroll down to the "Giveaways" section and click on the blue "Claim Reward" button. Once you've done that, you're ready to roll.
The theme is static, which means you won't see any cool animations going on in the background. Similarly, flipping up and down through the UI will not display a different image. Instead, you get a nice look at Spider-Man doing battle with The Rhino and The Scorpion, two baddies you'll be squaring off against in the game proper. The image is the work of artist Marko Djurdjevic. The theme also includes a track from the game playing in the background, as well as menu icons that have been given the Spider-Man treatment. In other words, they've been made red with black web designs.
Again, it's free, so feel free to go grab it if you want to spruce up your PlayStation 4 menu experience. That same page is home to all sorts of additional Spidey-related content, including a sweepstakes you can enter for your chance to win a Spider-Man-themed PlayStation 4, various trailers for the game and, of course, a link to flat-out buy the game.
Speaking of the game, if you haven't purchased it yet but you plan on hitting the streets of New York at launch, you might want to go ahead and buy your copy now. The game's early install has already triggered, so you can get it downloaded and ready to roll as soon as midnight rolls around.
And in case you manage to plow through the game's campaign and side content over the weekend, remember that your adventure will continue in the coming months. There's a DLC bundle also up for grabs, which includes three chapters' worth of content. Each chapter will include new story content, enemy types, boss fights, Spider-Man costumes to collect and more. The planned launch date is one in October, another in November and the final chapter in December. Not the longest of tails when it comes to post-launch content, but we figure fans of the game will be glad for any excuse to keep on swinging through the streets and fighting crime.
Your Daily Blend of Entertainment News
Staff Writer for CinemaBlend.