Dying Light: Bad Blood Is Now In Early Access On Steam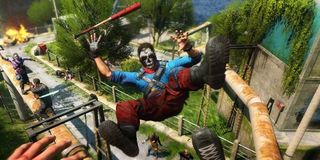 (Image credit: Techland)
It's rare that big AAA developers publish their games into Early Access on Steam. That sort of maneuver is usually reserved for independent developers who don't have the funds to hire in a quality assurance team or keep the game in play-testing for months on end. However, we have seen some developers adopt the Early Access platform even for larger-scale games with brand names attached to them. One such case would be Dying Light. Yes, Techland has announced that Dyling Light: Bad Blood is currently available as an Early Access title on Steam, and you can download the PvPvE game right now.
The title is classified as a Battle Royale game with a twist. You'll have to survive against other players as you attempt to gather special blood samples and attempt to make your way to the exfiltration zone where a helicopter will be waiting for you.
The hook for the game is that it plays out exactly like the standard Dying Light games, where you can acquire melee weapons and use environmental traps to kill opponents, or lure them into a zombie trap. The game features the same parkour-style traversal system, enabling players to leap across rooftops, hop over cars and scale the environment both horizontally and vertically.
The parkour and melee combat tie into together seamlessly, with players being able to even use the momentum of their opponents against them. It's possible that if you spot a player charging at you while they're in pursuit, you can use a side-step move to push them in front of you, which is great if you happen to push them off the edge of a building and into a horde of zombies down below.
Dying Light: Bad Blood still has the last man standing element to it, though. You'll still have to kill off the 11 other players in the map before you can exit the map, since the helicopter ride only has room for one person. This creates a frantic race across the map to capture the blood samples and then head to the extraction zone where one person will be able to catch a ride out of the danger zone.
The Early Access version of Dying Light: Bad Blood will be in development for the next four to six months, and it's scheduled to either release at the twilight of 2018 or in early 2019. The team still has work to do on advancing the meta-game, as well as adding in additional shop content, some new game modes, and all new custom map and additional balance changes.
According to the Early Access FAQ, the PvPvE mode is currently fully implemented and working for up to 12 players. It would have been cool if it allowed for 24 or 32 players, but maybe with some refinement and optimization, the player count can get a boost... maybe?
Dying Light: Bad Blood is currently available in Steam's Early Access phase for $19.99. This is completely separate from the canonical sequel that's currently in development for home consoles and PC. You can learn more about the Early Access version by visiting up the Steam store page.
Your Daily Blend of Entertainment News
Staff Writer at CinemaBlend.