Rockstar Employees Open Up On Social Media About Working Conditions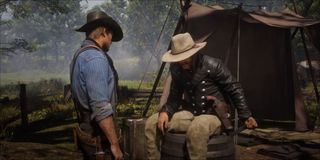 (Image credit: Rockstar Games)
This past week has been a firestorm of controversy and consternation whenever the topic of Rockstar Games pops up, and it's all because of a quote about 100-hour work weeks at the studio. Well, who better to get a clarification of the matter than from the developers themselves? Rockstar is letting its staff speak openly about the studio's culture.
Various staff from Rockstar Games took to their Twitter accounts on social media to openly express what the working conditions are like at the company. This is one of the rare times where the NDA gag-order was lifted and employees were able to speak (somewhat) openly about their jobs at Rockstar Games.
In the instance above, Vivianne Langdon, a tools programmer who works at Rockstar San Diego, explained that there were never any times where the week required working more than 50 hours in total, which is only half of what co-founder Dan Houser mentioned that he and three others had put into several weeks during the crunch of getting Red Dead Redemption 2 finished on time.
Initially, the comment about working 100-hour weeks was spread about the media landscape, creating a lot of discussion about the working conditions at Rockstar Games, and by association other game developers.
Gary Conti, another veteran working at Rockstar England, chimed in on Twitter to offer his experience, albeit it was a lot more succinct than Langdon's personal story, it still dismissed the notion that he was one of the people tasked with working up to 100 hours a week.
After the initial firestorm, Dan Houser issued another statement to the media, clarifying that not everyone at Rockstar Games works ridiculously long hours. Despite Houser clarifying the situation, it still didn't drown out the initial statements, which the media and social media latched onto like the muscled-jaw of a pitbull on a rubber toy.
So considering that Houser's attempt at damage control didn't go over so well, Rockstar Games lifted the restriction on their employees to briefly use social media as a platform to correct the record, so to speak.
This included Wesley Mackinder, who is another veteran at Rockstar Games and someone who worked on Grand Theft Auto V. He chimed in to state that he has never worked or been asked to work more than 100 hours in a week.
The big question now is if the voices of the employees will be heard over the outraged cultivated across social media? This is probably both a blessing and a curse for Rockstar and its parent company Take-Two Interactive because while it definitely puts a lot of eyes on Red Dead Redemption 2 just weeks before its release, it also brings with a lot of negative connotations that both companies probably would prefer to not be attached to one of the biggest video game releases of 2018.
Staff Writer at CinemaBlend.
Your Daily Blend of Entertainment News
Thank you for signing up to CinemaBlend. You will receive a verification email shortly.
There was a problem. Please refresh the page and try again.