Red Dead Redemption 2 May Be Much Smaller On Xbox Than PS4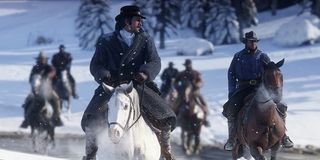 Red Dead Redemption II is going to require an absolutely massive download when it launches next week but, according to a recent posting, the Xbox crowd might not need quite as much free space as on the PlayStation 4. No matter what console you're gaming on, though, it's probably a good idea to start clearing off as much hard drive real estate as you can possibly manage.
We already knew that Red Dead Redemption II was going to be a big game, spanning at least three major locales populated with wildlife, towns, campsites and plenty of people to meet and activities to take part in. What we learned a few weeks back, though, was that the game's impressive scope is going to translate into an equally impressive download size. Initial reports put the game at a whopping 105GB, which is about double the usual high mark cleared by games from series like Assassin's Creed, Call of Duty and Battlefield.
Based on the listing for the game (opens in new tab) on the Xbox Live Marketplace, though, fans playing on Microsoft's home console could save quite a bit of room over the competition. If you scroll all the way down to the bottom of the game's listing, you'll find an "Approximate Size" listing of 88.56GB. Sure, we're only talking about a 20GB difference here but, for folks with limited space, that could make a big difference.
There are a couple of reasons why there could be a discrepancy here and, depending on which console you game on, there might not end up being a difference in file size between versions at all. For starters, that 105GB file size initially reported came from developer Rockstar's own posting of the PS4 Pro box are for Red Dead Redemption 2. In other words, if you're gaming on a standard PlayStation 4, it's possible the download size might be closer to the one currently listed on the Xbox site. Then again, as far as we're aware, PlayStation doesn't bother with different file types/sizes for different versions of the game. In other words, it's possible everyone has to download the 105GB file on PlayStation and, if you're gaming on Pro, you'll be taking advantage of all that extra data in the form of better graphics and whatnot.
However, that's actually the way things work on the Xbox. As reported last year, Microsoft does not require standard Xbox One consoles to download the extra data necessary for enhanced features on Xbox One X. If you are playing on an Xbox One S, for instance, your console should have never required extra hard drive space for games like Shadow of the Tomb Raider or Middle-earth: Shadow of War. So it's possible the 88GB listing is for the base version of the game, with another 20GB to be tacked on if you're playing on the Xbox One X.
Either way, it's a heck of a lot of space we're talking about so, again, be sure you have plenty of spare room on your console of choice before Red Dead Redemption II arrived next Friday, Oct. 26.
Staff Writer for CinemaBlend.
Your Daily Blend of Entertainment News
Thank you for signing up to CinemaBlend. You will receive a verification email shortly.
There was a problem. Please refresh the page and try again.