Rockstar Responds To Backlash Over Insane Red Dead Redemption 2 Workload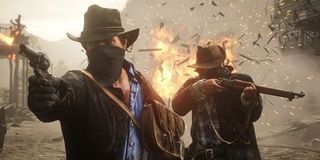 (Image credit: Rockstar Games)
Rockstar recently came under fire following the admission that, in order to get the highly anticipated Red Dead Redemption 2 out of the gate, some of the employees had to put in 100-hour work weeks. Well, after receiving the backlash, the studio responded to the concerns over the workload.
In a statement sent to Variety, Rockstar Games co-founder Dan Houser explained that the original statement about 100-hour work weeks was only in reference to four people, which included himself. Houser went on to say...
This definitely clarifies the point a lot better than the more vague statements from before, where Houser stated that the team was working 100-hour weeks. He originally didn't specify who was working those 100-hour weeks, and most assumed that it was the entire lead team, given that he later mentioned that Rockstar had to go through and organize more than 300,000 animation sets, and compile more than 500,000 lines of dialogue, which is a gargantuan task by any stretch of the imagination.
Couple this information with the "100-hour weeks" quote and most people assumed everyone at Rockstar Games was toiling away as if the production of Red Dead Redemption 2 was some sort of sweatshop.
This resulted in some notable people within the games industry, and on social media, chiming in to chastise and censure the practice of working staff up to 100 hours a week.
Cameron Kunzelman from Kotaku also shared detest relating to the original statements from Houser about working 100-hour weeks, stating that there wasn't a single feature throughout the very expansive Red Dead Redemption 2 that was worth working 100 hours for.
The tweet was kept short and simple and was posted after the initial interview went live, but one does have to wonder if Kunzelman might have a change of heart after Houser explained the situation further?
Others were a little more understanding, seeking to clarify the situation rather than instantly criticize Rockstar for Dan Houser's statements. In particular, there was gaming correspondent Andrea Rene, who asked if the quote was out of context or if the overtime pay was really good to compensate for that level of commitment.
Rene's suggestion was that maybe the 100-hour weeks were voluntary or maybe Rockstar should hire in more staff to deal with that level of crunch for the Xbox One and PS4 release of the AAA game.
Of course, now that Houser has further explained that it was just four people over the course of several weeks who were working those harsh hours, it definitely alleviates some of the concerns... right?
Well, Red Dead Redemption 2 is due out at the end of October, and as gamers begin to make their way through the great open plains, the high mountains, and the thick forests, they can maybe stop, take a look, and think about some of the team members who put 100-hour work-weeks into building the game.
Your Daily Blend of Entertainment News
Staff Writer at CinemaBlend.
Your Daily Blend of Entertainment News
Thank you for signing up to CinemaBlend. You will receive a verification email shortly.
There was a problem. Please refresh the page and try again.