Black Ops 4 Opens Black Market, Offers Double XP This Weekend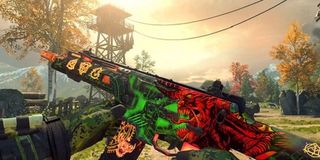 Treyarch Studios has announced that, not only is Black Ops 4 launching its first Double XP weekend, but also another update boasting the game's Black Market, which is full of extra loot to unlock. If you're looking for some extra reasons to play the latest Call of Duty through the weekend, faster leveling and swag aplenty should probably do the trick.
The above tweet rolled out through the Treyarch twitter feed heading into the weekend. In it, the developer announced that the next several days will offer additional reasons to pop into the Multiplayer, Zombies or Blackout modes in Black Ops 4, beginning with twice as many experience points as you're used to earning. No matter what platform you're playing on, you'll earn double XP through Sunday evening or, if you're playing Zombies, double "Nebulium Plasma," which is used for upgrading your loadouts in that particular mode.
Also noted in the recent tweet was that an update is expected this weekend boasting stability fixes and additional improvements, with additional details to be revealed "soon." Well, this morning we found out what a big portion of that update includes, so long as you're playing on the PlayStation 4. If you're gaming on that particular platform, the Black Market is officially up and running as of Friday, Oct. 19, with support rolling out to the Xbox One and PC starting seven days later. Yes, we agree that's lame, but that's how things are done these days.
The Black Market is being billed as the "one-stop shop for awesome gear," where players can spend currency on things like new emotes, weapon skins and the like. There's also a new feature called the "Contraband stream," which pretty much operates like a Battle Pass in Fortnite. In short, you earn extra cosmetics simply by playing the game and leveling up. Also like in other games, the Contraband list will change by "seasonal Operations," which are expected to last for a couple of months. During each of these operations, you can unlock even more weapon skins, character skins and the like.
The full announcement explains that each season of Operations will include brand new characters for Blackout, new Signature Weapons, new outfits for the Multiplayer mode's Specialists, as well as new Tags, Stickers and Gestures to make your characters more unique. Given how successful this type of system has been in other games, it's no surprise to see it pop up in Call of Duty and will likely serve as a solid tool to keep dedicated players coming back for more.
As if that's not enough, Special Event streams are also coming to Black Ops 4, beginning Oct. 20 on PlayStation 4 and seven days later on other platforms. This stream includes even more gear based on a given them and, considering the season, it should come as no surprise that the first one is based on Halloween.
As if that's not enough, Blackjack's Shop is launching in November that will allow players to flat-out purchase additional cosmetic gear with the stock refreshing on a weekly basis.
Staff Writer for CinemaBlend.
Your Daily Blend of Entertainment News
Thank you for signing up to CinemaBlend. You will receive a verification email shortly.
There was a problem. Please refresh the page and try again.