Fortnite's Season 6 Battle Pass Is Here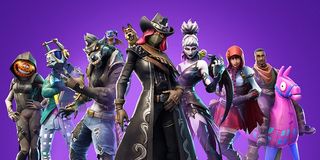 Fortnite's sixth season is finally upon us, boasting a spooky theme full of mysterious map alterations, an evolving plot and a brand new Battle Pass full of skins, cosmetics and even pets. Get ready to stalk through Battle Royale as a werewolf and uncover loads of new secrets, as highlighted by Epic Games' latest trailer for "Darkness Rises."
Based on the timing of Season 6 and Epic's own teasers, folks suspected that the latest content drop for Fortnite would have a Halloween vibe. An image that leaked early seemed to hint at pets coming to the game, too, all of which has now been confirmed. Season 6 went live today and will remain active through Dec. 6. As always, you can pick up this season's Battle Pass for $9.99, which will give you a hand full of items out of the gate and additional tiers of loot to earn as you play through the season. Remember that these are all cosmetic, so no worries on anyone buying an extra edge in gameplay. Also, free players will have their own tier of rewards to work through, just not as robust as the Battle Pass members. And if you decide later in the season to pick up the pass, you'll automatically gain whatever items from the Battle Pass you would have earned were you a member the entire time.
The moment you pick up a battle pass this season, you'll earn access to the goth cowgirl skin, the Llama DJ skin, some experience boosts and a whole bunch of extra achievements to work through while playing standard matches of Battle Royale. As you earn experience, you'll earn all kinds of additional items including more experience boosts, in-game currency and the like. The big draw, though, are all of the cosmetics. These include seasonally themed wall sprays like, gliders, back bling and skydiving trails. At level 12 you'll unlock your first pet, a dog, a new in-game item that stays with you through the match and "reacts to certain situations." They're just for looks, though, so don't expect them to alert you to danger or anything like that.
I'm skipping over the less exciting items like spooky-themed wall sprays and wallpapers, but you can feel free to give all 100 tiers of rewards a gander at the official site. Once you hit level 23, you'll find the leaked skin of a costume that makes your avatar look like they're riding a llama across the map. A gecko pet is at level 29, with a blue dragon at 43 and a deadly Red Riding Hood at 47. Again, there's plenty of cool content through the remaining tiers, but that werewolf everyone is so jazzed about is held off until the top tier, 100.
On top of that, Epic promises the game world itself will continue to change, with a new spooky castle popping up and players being directed to bizarre occurrences happening in areas like the Wailing Woods. Oh, and there's a new haunted castle on the map, all somehow tied to that mysterious purple cube that appeared on the map last season.
Happy hunting!
Your Daily Blend of Entertainment News
Staff Writer for CinemaBlend.