Fortnite's Skull Trooper Is Back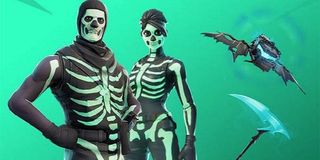 A fan-favorite classic skin launched in Fortnite today, with the skeletal "Skull Squad Gear" making its triumphant return just in time for Halloween. If you've been harboring jealousy for players donning these monochromatic duds, now is your chance to pick them up within the game's V-Bucks store.
If you're new to Fortnite, you're probably wondering what all of the fuss is about. Well, the original Skull Squad Gear was launched way back in the game's first season and, if you weren't around to grab it then, you've had no way to actually add it to your collection. About a year later and in celebration of the holidays, the costumes are coming out of the vault; complete with some sweet new additions.
Part of Update 6.02, the Skull Squad Gear includes a handful of pieces you can purchase and an extra piece of gear you can unlock courtesy of some fresh challenges. The Skull Trooper is the male avatar, and he can be yours as of today for 1,500 V-Bucks. If you've ever wanted to run around the Battle Royale map feeling like Johnny and his pals from The Karate Kid, this is a solid way to realize that fantasy. The Skull Ranger is the female avatar, which is going for 1,200 V-Bucks. There's a new badass Skull Sickle for 1,200 V-Bucks, which add the sweet skin to your pickaxe. There's also a rad-as-hell Crypt Cruiser glider, which looks like a chained-up coffin with spooky bat wings. That'll set you back another 1,200 V-Bucks. Or, you could just drop 5,100 V-Bucks on the full package.
Grabbing these items will give you access to some special challenges within Fortnite and, if you complete them, you'll also unlock the Ghost Portal Back Bling. This cool piece of gear is appropriately spooky, made out of stone, broken chain and the kind of fencing you expect to see at a cemetery. The portal also emits a cool blue light, so that'll certainly look cool while running around the game's massive map.
There are rumors that you'll be able to unlock a couple extra color schemes for the skins, though I can't find confirmation just yet. It looks like you'll be able to have the bones of the costume appear glow-in-the-dark green or even purple, but don't bank on that until we actually see it out in the wild.
Surprisingly, the launch of the Skull Squad Gear is causing a bit of controversy within the Fortnite community, as some folks seem to prefer that rare gear stay that way. The original skeleton outfit is considered by some to be a status symbol, proof that they were supporting Fortnite before it blew up. Others, though, are arguing that anyone who truly "supports" the game would be in favor of anything that's going to keep earning Epic success, such as the re-launch of a beloved skin.
Either way, the (skeletal) cat is out of the bag now, so go grab some gear if it suits your fancy. Otherwise, let us know what you think of Season 6 so far. Are you enjoying the Halloween theme? What about those changes to the mat? Drop your thoughts into the comments below.
Your Daily Blend of Entertainment News
Staff Writer for CinemaBlend.