Fortnite Just Hit A Massive Milestone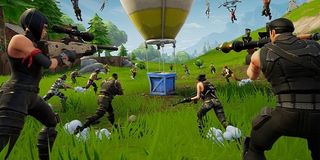 Fortnite finally launched in South Korea this past week. According to the game's latest figures, Epic's battle royale game has nearly tripled the already astronomical concurrent player counts achieved earlier this year. According to the publisher, the game now has 8.3 million concurrent players.
If you can remember all the way back to February of this year, Epic revealed that Fortnite had achieved an impressive 3.4 million concurrent players. The game actually had some stability issues due to those numbers but, after a patch or two, the publisher announced that the infrastructure was in place to accommodate continued growth.
Based on a report from VG24/7, Epic was true to its word, as the game has apparently been doing a heck of a lot of growing over the past nine months. With the game finally going live in South Korea, it is reportedly at 8.3 million concurrent players, which is a ridiculous number of people to have playing a single game online at one time. Most publishers would love to have a million concurrent players during a game's peak performance. So, yeah, this is kind of a huge deal.
Obviously, that kind of player engagement is going to be massive for Epic from a financial standpoint. Imagine if just a fraction of those 8.3 million players spent a single dollar on the game every week. Now apply what you know about the actual spending habits of average gamers and you'll see why the publisher's bank account is likely buckling under the weight. Again, that's 8.3 million players concurrent, which doesn't even account for the people who weren't playing at the time of that massive achievement.
It's been a huge year for Epic and Fortnite, though one that might actually be making it difficult for any other game to achieve "success." Investors are a big part of that equation and, lately, it seems like their view of the industry is getting a bit skewed. If you check the numbers, both Destiny 2 and Call of Duty: Black Ops 4 seem to have had much success this year. They've made a bunch of money, but the key issue is that they have not made "literally all of the money like Fortnite."
Investors expect to see continued growth and, when you're talking about series that are used to amazing success, there isn't a heck of a lot of room for that growth to occur. An anomaly like Fortnite, though, throws off the bell curve. Investors start to ask things like, "Can't Black Ops 4 bring in 8.3 million concurrent players?"
However, it's hard to imagine Epic would be spending much time worrying about whether Fortnite is creating unrealistic expectations for the industry. You wouldn't have been faulted for thinking the game had peaked earlier this year but, clearly, the magic formula is still working.
Staff Writer for CinemaBlend.
Your Daily Blend of Entertainment News
Thank you for signing up to CinemaBlend. You will receive a verification email shortly.
There was a problem. Please refresh the page and try again.