Could The Legend Of Zelda: Skyward Sword Get A Nintendo Switch Port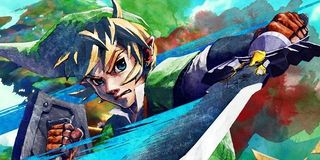 The rumor mill is at full churn these days, with the latest bit of gossip being that Nintendo could be working on a Switch re-release of The Legend of Zelda: Skyward Sword.
The nice thing about this latest Zelda rumor is that it wasn't leaked onto the internet or supposedly said by an unnamed "someone familiar with the project." Instead, this Skyward Sword buzz comes directly from series head Eiji Aonuma himself.
According to a post on Weibo (via Eurogamer), Aonuma recently popped up during a Zelda concert in Osaka, Japan. The orchestra was in the midst of an evening of playing beloved tunes from the long-running series when Aonuma just sort of casually said, "I know what you are thinking, Skyward Sword for Switch, right?" That apparently got a big reaction from the crowd and, once a bunch of people attending the event started posting to social media, the Zelda community as a whole.
Skyward Sword is an odd duck in the Zelda series due to its unique controls, design and when the game launched. For starters, it launched near the end of the Wii's run, which meant a lot of people had already moved on from the console at that point. Secondly, the game used the Wii's Motion Plus controller attachment, as you controlled Link's sword swipes by swinging your arm around. Finally, Nintendo made a couple of brave choices with the design, ditching an open world for tighter chunks of map for players to explore and filling them with dungeons meant to be played multiple times.
The first Zelda game chronologically, Skyward Sword also boasted a beautiful orchestral soundtrack, which probably has something to do with Aonuma's timing of his not-so-cryptic comment. And given the fact that Ocarina of Time, Majora's Mask, Windwaker and Twilight Princess have already received updated re-releases, it would certainly be Skyward Sword's turn to shine on a new platform. I think I'd rather have a Switch bundle featuring the 3DS remakes of Ocarina and Majora but, hey, beggars can't be choosers.
As noted in the original post, a re-release of Skyward Sword would also fall in line with Nintendo's apparent desire to see a Zelda game launch for the Switch every single year. Breath of the Wild stole the show last year and, this year, we got Hyrule Warriors. A Switch version of Skyward Sword in 2019 would certainly help that trend continue.
Now for the big question: How much work is Nintendo willing to do to optimize the game for the Switch? The main concern for many fans is the controls, which weren't super reliable on the Wii. The Joy-cons work well enough for motion control, but it might be wiser for Nintendo to simply remap things to buttons only. That would also allow folks to play the game in portable mode, which would certainly be my preferred method of adventuring.
Staff Writer for CinemaBlend.
Your Daily Blend of Entertainment News
Thank you for signing up to CinemaBlend. You will receive a verification email shortly.
There was a problem. Please refresh the page and try again.