Spider-Man Unlimited Is Shutting Down After Four Years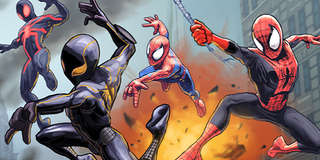 After four years of endless running and swinging through the Spider-Verse, Gameloft has announced an end date for its popular mobile game, Spider-Man Unlimited.
The above tweet comes from the game's official thread, which was typically used to keep player apprised of fresh content drops, community events and the like. It notes that Spider-Man Unlimited will be playable through March 31, 2019, at which point the game will go silent. It also notes that, between now and then, there will be no further content updates to the game.
Our understanding is that the story didn't exactly conclude yet, so this is a bit of a bummer for dedicated fans. On the other hand, it's not uncommon for a mobile game to just end without warning, so the fact that fans were given a solid three-month warning can go in the plus column. If you're a fan of the game, be sure to get in as much playtime as possible between now and then.
You don't see Spider-Man Unlimited pop up in many conversations, but the game clearly had a dedicated following. Some, as it turns out, recently returned to the game only to get this unfortunate news.
Unlimited was actually first announced way back at Comic-Con 2014 and launched in September of that same year. An iOS and Android endless runner, the game has been downloaded over 30 million times, so it clearly has a following.
What's really cool about Unlimited is that it combined endless running with unexpected additions to the genre, such as loads of costume unlocks and even a story with various goals players were tasked with completing. In it, various members of the Spider-Verse get thrown together in an effort to stop a bunch of Marvel villains. It's a plot fans of Spider-Man might be familiar with, which helps explain this reaction to the news that Unlimited is closing down.
Actually, that's what makes this news pretty shocking: Spider-Man is on top of the world right now. He's been a standout character in the Marvel films over the past few years and in his own fantastic Homecoming movie, and we only just learned that Marvel's Spider-Man for PlayStation 4 is the fastest-selling superhero game in U.S. history. On top of all of that, Into the Spider-Verse is easily one of the best films of the year, meaning Spider-Man and his various incarnations are a hot commodity.
While it's easy to argue Gameloft should simply rebrand the game to capitalize on Spider-Verse, things are rarely that straightforward. Maybe their contract is running out and the property is simply too expensive to continue working with. Maybe they've simply run out of ideas to keep the game's plot and unlocks moving forward. Either way, if it's a game you've played a lot over the years, be sure to get in some extra time with Unlimited before it disappears for good.
Staff Writer for CinemaBlend.
Your Daily Blend of Entertainment News
Thank you for signing up to CinemaBlend. You will receive a verification email shortly.
There was a problem. Please refresh the page and try again.