Everybody Can Now Play Fortnite On Android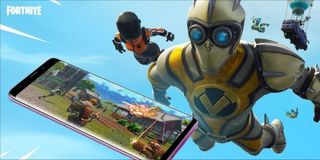 Epic Games has already courted more than 100 million gamers with Fortnite on PC and home console, but that's obviously not enough, especially given that even more players are willing to hop into the game thanks to the added support for all major Android devices. Epic announced that everybody who has an Android can now play Fortnite on their preferred device.
The news was rolled out thanks to an announcement from the official Fortnite Twitter account. It's been confirmed that the Fortnite beta is currently playable on any and every compatible Android device. This means you no longer need an invitation to test the game out on your current Android device.
To jump into the action simply visit the Android web portal using an Android device, or go to the Epic Games website and scan in the QR code from the Android page to begin downloading the client. If you attempt to visit the site without an Android device you'll hit another landing page directing you toward the Android page.
Previous to the game being available on all Android devices, there were beta tests on select devices earlier this year. Epic Games decided to bypass the Google Play store altogether, which created a little bit of bad blood between the digital distributor and Epic Games. Things got a little heated when Google decided to publicly expose a vulnerability within the mobile version of the Fortnite APK before Epic had time to address it. During this time Epic was only testing the game on very specific Samsung devices, but, eventually, the company began adding more and more support for additional Android smartphones and tablets.
Gamers had to wait quite some time before full compatibility was made available for all devices outside of just Samsung and Sony's smartphones.
Fortnite exploded onto the scene back in 2017 after spending years in development and a lot of closed alpha and beta testing. After initially releasing with the Save The World four-player cooperative mode, Epic introduced the Battle Royale mode following the huge success that PUBG Corporation saw with the Battle Royale-themed PlayerUnknown's Battlegrounds.
Epic also ran into some troubles with cross-platform gameplay when Sony decided to block Epic from allowing Nintendo Switch and Xbox One owners from playing with PS4 owners. After a lot of begging and pleading from gamers, Sony finally conceded and gave Epic the go-ahead to enable cross-platform play between PS4 and other platforms. And, now Android gamers out there will be able to get in on the action as well. Now everyone can play with everyone.
A few gamers have run into problems with their devices not being supported, but, apparently, you will need APK version 2.2.1 or later to make it work on your device. I'm sure Epic will continue to roll out more support for additional devices in the coming weeks. If you do have an Android device with 4GB of RAM or more and you're running version 8.0 or later, you can give Fortnite a try right now.
Staff Writer at CinemaBlend.
Your Daily Blend of Entertainment News
Thank you for signing up to CinemaBlend. You will receive a verification email shortly.
There was a problem. Please refresh the page and try again.