Fallout 76 Players Are Reportedly Getting Banned For Entering A Secret Room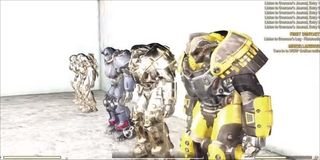 (Image credit: Bethesda)
Fallout 76 seems to be the controversial game that just keeps on giving. Bethesda hasn't been able to catch a break with this title since it released last fall for the Xbox One, PS4, and PC. From one controversy to another, there's reports going around that now players are getting banned for entering a secret room.
Over on Eurogamer there's a report that there's a developer room within the game that some players have been attempting to access. The developer's room is supposed to be a place outside the actual game that basically contains all of the main usable weapons, some NPCs, a lot of gadgets and items you can acquire or use, all the power armor you can acquire, and more.
Apparently gamers who find a way to access this secret room are being banned in mass by Bethesda for accessing the room, not just because it contains tons of secret goodies, but also because it features content that's planned for release in future updates.
The room, as described by Eurogamer, is designed as an in-game testing space, almost like a gray box within the game. A gray box is usually the phase after white box testing has been completed. White box testing is where an idea is implemented into the engine and prototyped for its basic mechanics. This is before sound, textures, shaders, and any other details are added to the prop, feature, script, or function. If the prototyping phase goes over well, developers then move the testing on to the gray box, which is a closer form of a completed iteration of the idea.
In this case, Bethesda used Fallout 76's developer room as the gray box testing area, where functionality, usability, and mechanics are all put to the test to see how well the items function.
There's actually a YouTube video showing what the inside of the room looks like, courtesy of YouTuber PolterGeist.
The seven-minute video goes through the different items within the room, and some of the suits you can view. It almost looks like a giant testing lab with shelves where the items are contained, almost like Batman's brightly lit underground lair near the wharf in Christopher Nolan's Dark Knight trilogy, or the weapons room in The Matrix.
The video above is actually a re-upload, as the original got taken down. PolterGeist explained that you can easily get into the room via a wall-glitch, but once you get in there your account gets flagged and then you get perma-banned.
Eurogamer notes that these developer rooms aren't uncommon, and Bethesda included other rooms just like that in Skyrim and Fallout 4.
Entering the room now results in an automatic ban (unless you're a developer) and it can take anywhere between six hours up to 24 hours for the ban to take effect. So if you plan on glitching Fallout 76, you probably don't want to glitch into the developer's room. Bethesda may have messed up with the canvas bag and the accidental doxing, but this time around it was players going outside the boundaries to access places they weren't supposed to. But then again, if Bethesda really didn't want people in the room, maybe it would have been best to leave the developer test room outside of the game.
Your Daily Blend of Entertainment News
Staff Writer at CinemaBlend.