Fallout 76 Teases Rebuilding After The Apocalypse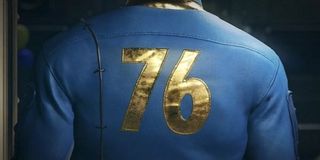 Bethesda's big Fallout tease came to a close yesterday with the reveal of a new game. While details are still scarce, a new trailer has at least confirmed that it will be called Fallout 76.
The above trailer comes directly from Bethesda and was used earlier this week to cap off a daylong tease that proved to be some extremely successful viral marketing. It all started in the early morning when the developer/publisher posted a gif to its Twitter feed boasting the "Please stand by" image traditionally associated with the Fallout series.
Shortly after, a livestream went live on Bethesda's Twitch channel boasting a monitor with that same image, as well as a Fallout Vault Boy figurine. Some other random stuff happened here and there throughout the hours-long stream but, for the most part, the biggest attraction was hundreds of thousands of people flooding the comments with speculation and banter.
When the whole thing came to a close, it was with the reveal of the above trailer announcing Fallout 76.
As has become common practice in Fallout trailers, the video begins with a radio suddenly sparking to life and playing a tune. This time around, it was "Country Road" playing, and it turns out the radio is in a vault rather than the wastelands.
We get a few shots of the vault boasting images of board games, holiday decorations, a messy kitchen and more. There's an instructional video playing during one of the scenes wherein the viewer is told that, once the fallout has settled, vault dwellers are in charge of rebuilding. There's also a quick scene of a computer monitor displaying an email invitation of some sort.
As the trailer wraps up, we get a wider look at the vault that makes it clear a massive party has taken place. That's followed by a quick shot of a vault dweller strapping a Pip-Boy device on their arm and an accompanying message that "In bold 76, our future begins."
So there are a lot of clues there, but no definite answers from Bethesda. It's clear that this isn't a remake/definitive edition of Fallout 3, but it seems a bit too close to Fallout 4 to be a standard entry in the series. There's always the possibility that this is going to be a shorter spinoff game, perhaps developed by another branch of the team.
Others, though, are speculating that all of this talk of "rebuilding" might point to a Fallout simulation game being announced. You could already build forts in Fallout 4, so what if Fallout 76 is a more robust take on that? The comments are full of buzz about rumored multiplayer, too, so maybe we're looking at a cooperative/competitive experience?
Finally, we can't pretend it isn't possible that this is a battle royale game. Thanks to Fortnite and PUBG, we now have to assume every announcement could potentially be another 100-player free-for-all. That doesn't seem super likely for Fallout, but who knows? We'll just have to wait until E3 for more details.
Your Daily Blend of Entertainment News
Staff Writer for CinemaBlend.