EA's Open-World Star Wars Game Reportedly Canceled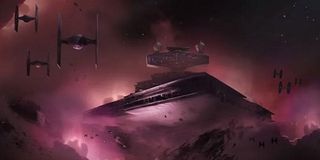 Based on a series of reports from folks close to the matter, it looks like Electronic Arts' open-world Star Wars game has been completely canceled.
This report comes to us from Kotaku who, as of the most recent update, has spoken to several unidentified sources confirming that the troubled Destiny-esque Star Wars game has officially been canned. This is only the latest development in the strange history of what's known as project "Orca" but, if nothing else, at least the good news is that it does not appear the cancellation of the game has resulted in the loss of any jobs.
To be clear, EA has not made an official announcement concerning the game's cancellation but, based on the fact that several sources are confirming it, it seems like a safe bet that a statement from the publisher is inbound.
Assuming this all holds up, that would mean that EA Vancouver was only working on the game for about a year. The game was originally slated to be a more linear experience and was going by the moniker "Ragtag." With Amy Hennig at the helm, that game was being developed by Visceral, a studio EA purchased following the success of the Dead Space series. Given Hennig's background and what little we knew about the project, it's no surprise that it was being described as something like Uncharted set in the Star Wars universe.
Unfortunately, EA decided that was no longer the game they were in the market for and decided to shutter Visceral and pass the project off to EA Vancouver. At the time, EA made comments that displayed a desire to see the project shift to a games as service model, similar to what we're seeing in titles like the upcoming Anthem and The Division 2. EA wanted a game players would keep coming back to (and presumably keep spending money on), and that's not something you can get out of a linear, campaign-driven game.
EA Vancouver received the game's assets and was put to work on retooling the project. Comments had it pegged as an open-world game where, playing as a scoundrel from the wrong side of the tracks of the Star Wars universe, players would explore various planets and pull of jobs for various entities within the popular galaxy far, far away. Unfortunately, things weren't moving as quickly as EA had hoped.
According to the initial report, EA wanted the open-world game to come out relatively soon and, after a year with EA Vancouver, it became clear that wasn't going to happen. So, in response, it appears they have simply pulled the plug. Battlefront II is still rolling out updates during its second year on the market and, late this year, Respawn's Jedi: Fallen Order is expected to launch, so it's not like EA is hurting for Star Wars games just yet. It sounds like efforts from the open-world game have now been shifted to a new game with a smaller scale, which they apparently hope to get out by late next year.
Your Daily Blend of Entertainment News
Staff Writer for CinemaBlend.